How to change White to any Colour using Photoshop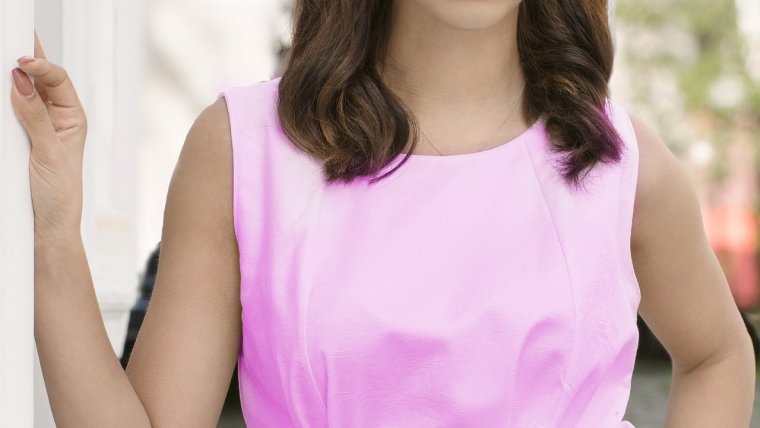 How to change White to any Colour using Photoshop
www.sleeklens.com
Hi all got a quick one today and an easy one but a useful one to all those clothes sellers/designers, say you want to see clothes option in different colors, but you haven't yet had them made, you just have that one prototype in white.
Well! this is where good old Photoshop shop steps in with its arms flexed ready to go.
So the picture I have today is the Image below.

Ok so we have this gorgeous white dress to work with, so if you can get anything close then it will work just fine so let's get on it.
Let's open up Channels.
If you don't know where that panel is then you will be able to find it easy enough when you go to the top menu bar and find Window, when you click that scan down until you see Channels, click on that and the panel should appear to the right-hand side.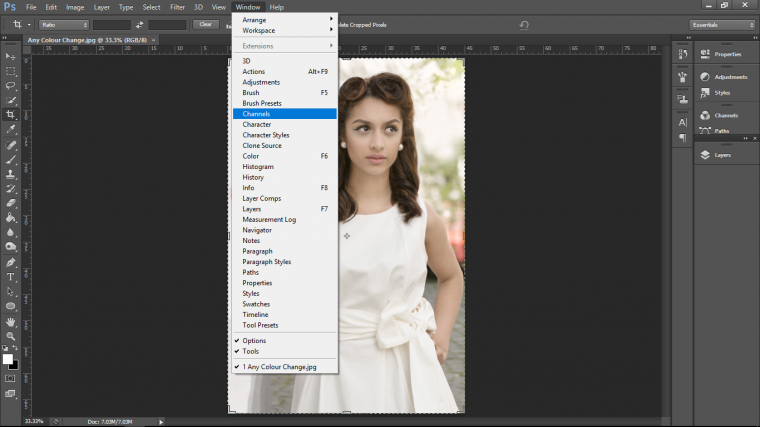 When the panel appears you will see that there are 4 layers inside there, RGB which stands for Red Green Blue and the separate Red, Green and Blue layers.
Start to click each one individually just to you see what each one does.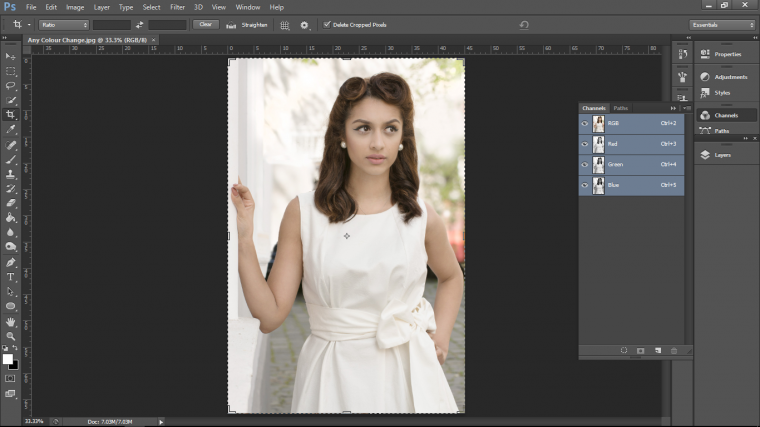 What I am looking for here is to see which one our of Red, Green or Blue gives me the best contrast, contrast being best definition between the white and the flesh, so whichever one gives you a really white finish to the clothes and has the darkest skin.
Chances are it will be the blue channels but this may vary depending on your image.

Once you get that sorted click and drag the layer down to the bottom of the channel layers panel, you will see 4 icons there, you want to hold the layers over the icon that looks like it has a fold over, then you release and it will create a new layer.
So in case you are lost it is the third one over beside the recycling bin.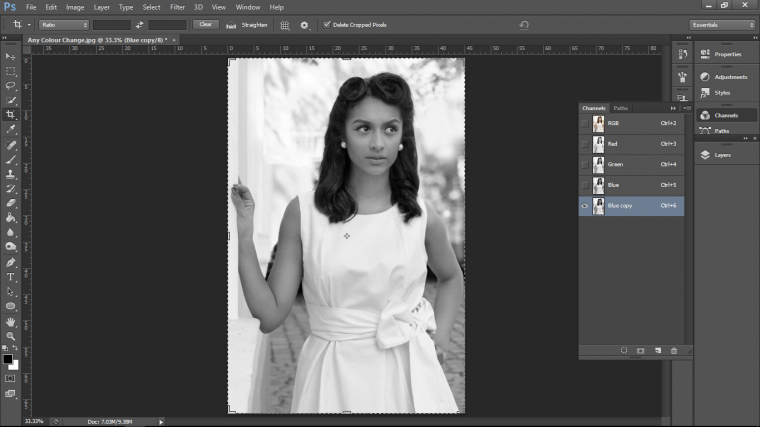 Next, we will have to sort out the levels so we can have more of a contrast.
Go to Image – Adjustments – Levels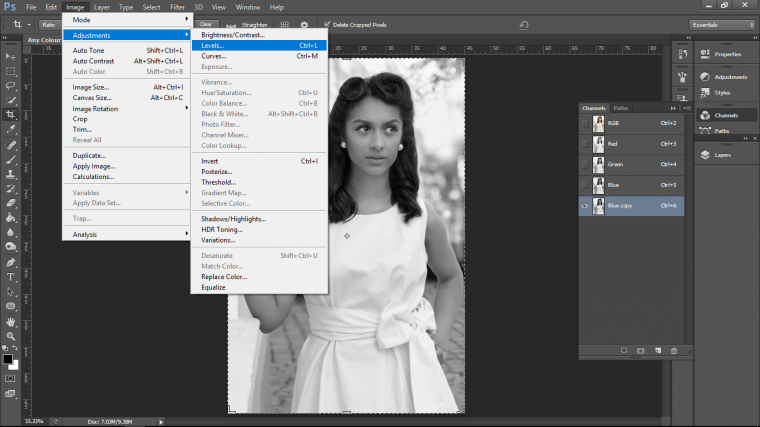 Once in there look at the little graph with the tabs on it, take each in turn and click on the left-hand side one first and drag it in toward the center a little bit about 1/3rd the way in.
Then do the same with the tab on the right-hand side until your image looks kind of similar to mine below.

When that is complete next we'll create a selection.
The way to create the selection is very simple, hold Ctrl on your keyboard and then click on the little thumbnail in the duplicate layer.
So that's the little box that has a representation of the image on it.
If you're really stuck see image below.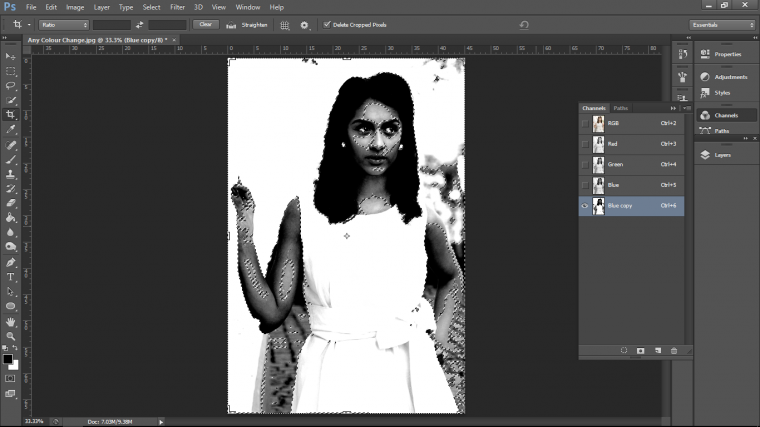 Now we are going to do is open up a Hue and Saturation Adjustment Layer.
Go to Layer – New Adjustment Layer – Hue/Saturation
Now you will have to grab your brush tool.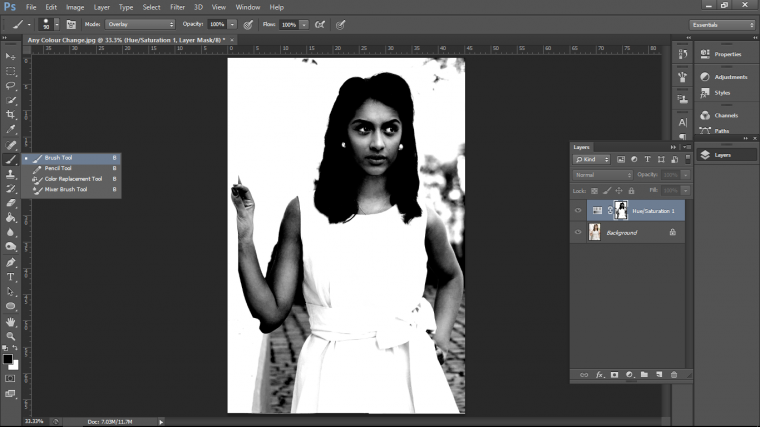 When you do this you will see that there is a menu that appears at the top of the screen on the top left-hand side.
Look for the word normal and click on that drop down box until you see Overlay.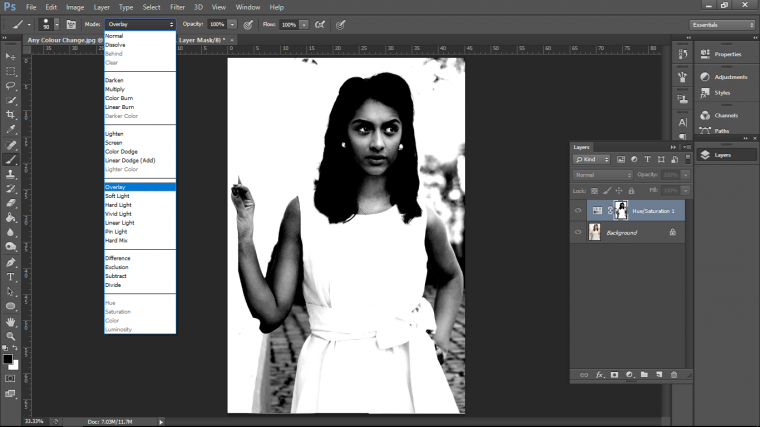 Then make sure you have black for your brush and start to paint over the dark parts of your image, don't worry about being precise you can be very quick with this, just make sure that you have clicked on the thumbnail in the Hue and Saturation layer.
Once you are done with all the dark's you can then change your brush to white and do all the white parts in the exact same manner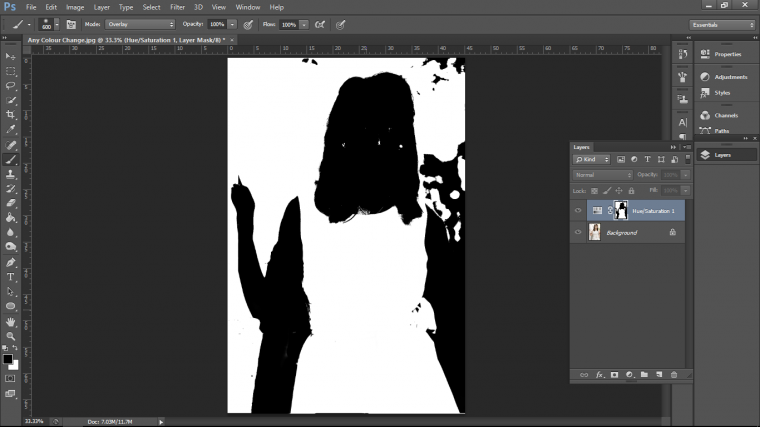 Once done you can click on your Hue and Saturation layer [you may have to double click]
And then you can start to play with the Hue slider and the Saturation Slider, you can also have a little tamper with the lightness slider but I would advise to probably just leave that one alone.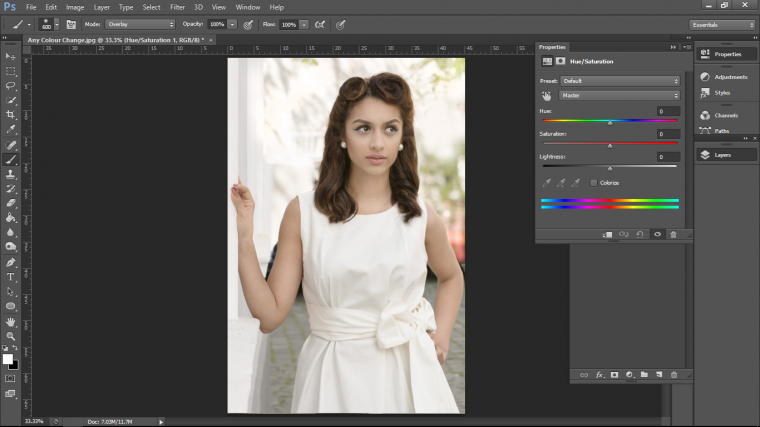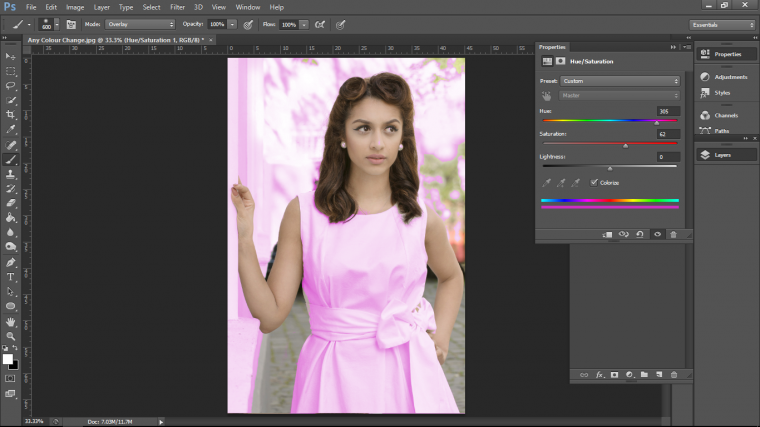 When you are done and you have created your color you can then go back to the thumbnail, change your brush back to normal and with white start to paint back the background etc leaving the dress alone.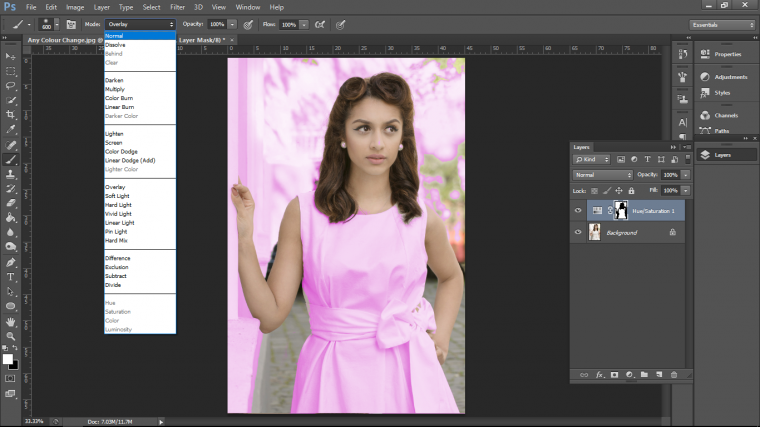 If you find that you have areas that are missing the color or that the color is overlapping you can create little selections to either remove or bring back using out black/white brush technique on the hue and saturation thumbnail.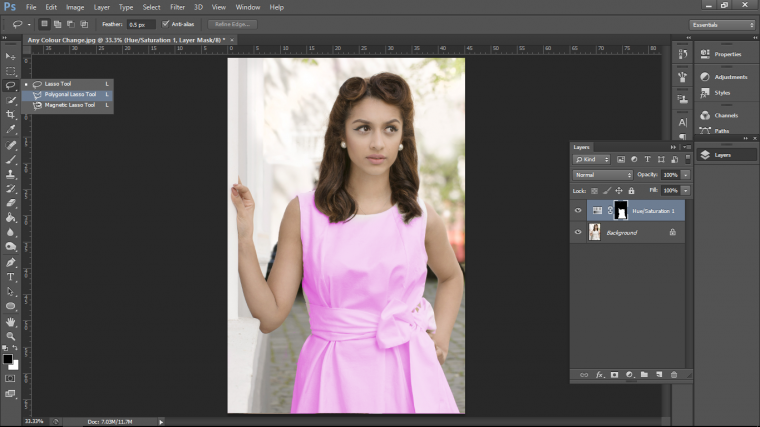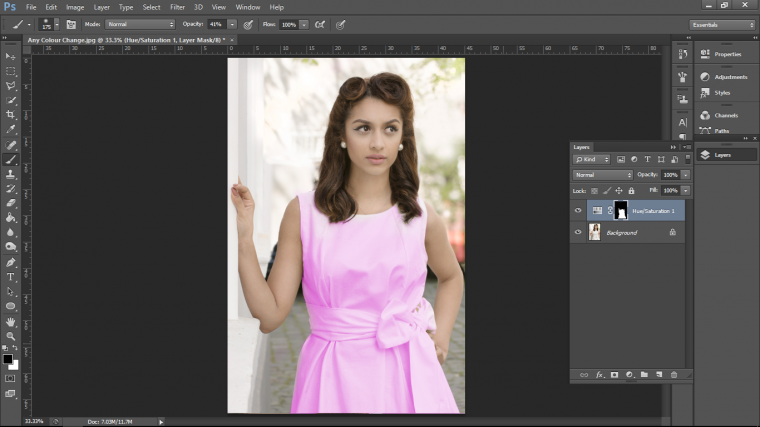 You should take a little bit more care with the final edits, and when those are done, you will have your color change on the dress.
Hope you enjoyed.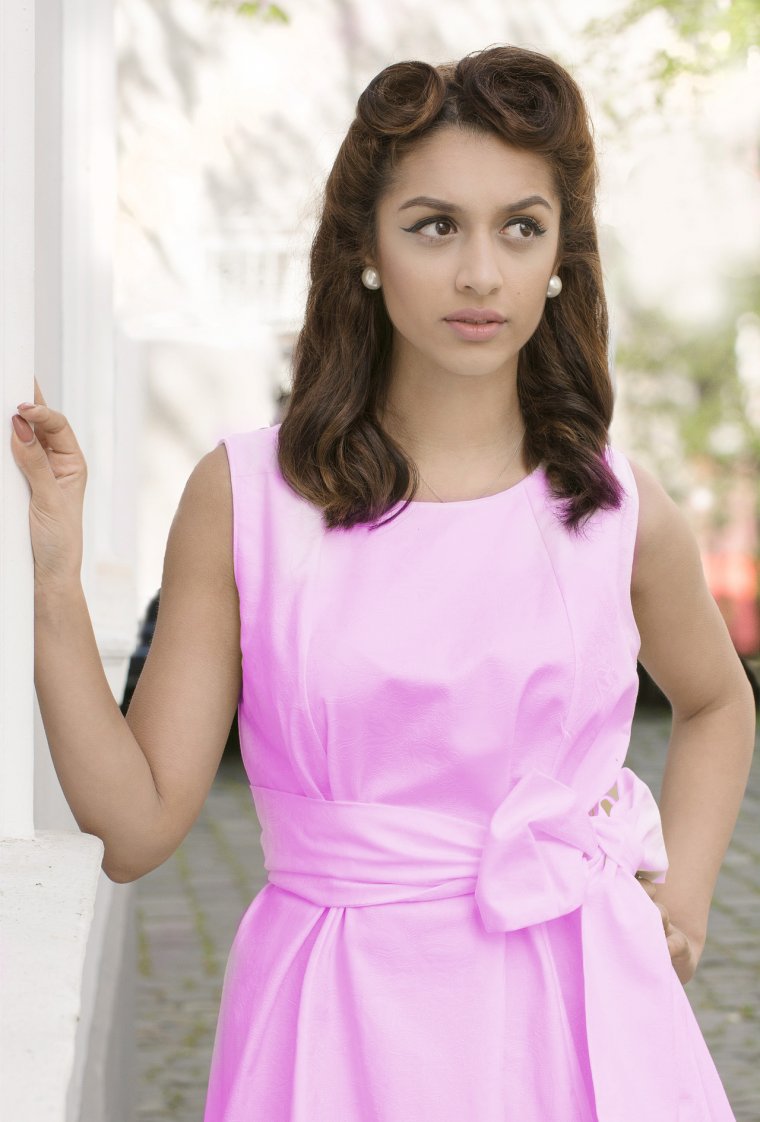 The following two tabs change content below.


Graduated from college in 2002 with a degree in Art & Design, I started exploring my way in Graphic Design and Professional Post Production. Full-time freelancer since 2011.