Create Fantasy Artwork using Photoshop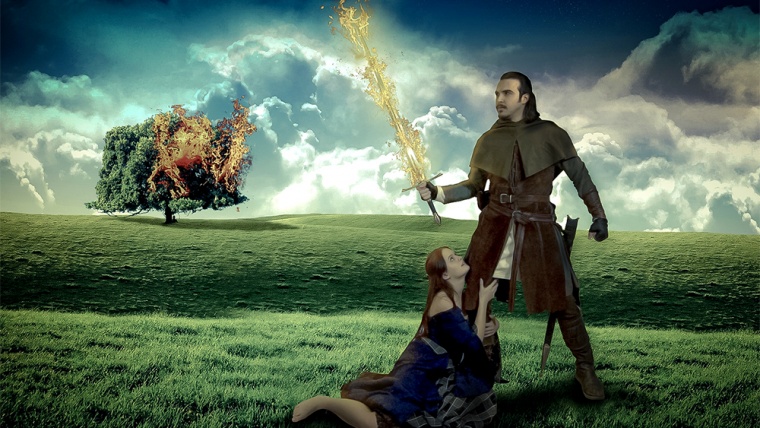 Create Fantasy Artwork using Photoshop
www.sleeklens.com
Hey,
I've got a cool Tutorial for you today that I'm going to be doing more of. The idea behind these Tutorials is to help you become proficient with using Photoshop, learn all my little tricks on how to do these types of things, and also to show you the value of having Presets.
So, today I'm going to be making a Fantasy scene made up of a few different images.
First, I'd like to give credit where credit is due
Thanks to Manveruon from Deviant Art and hdwallpaperslovely for the background images.
Ok, so now for the Tutorial. Start by clicking on the Polygonal Tool, you will see it highlighted in the image below, to the left. Make sure there is Zero Feather on it, then start to click on the edges of the image where you are looking to cut out. I zoom right in on these usually, you can use the Space bar to bring up the little hand icon, so you can move around your image freely and by pressing (Ctrl – *or* +) you will be able to zoom in and out.
I suggest that you cut along the Blurred edge, you will find this right at the very edge of the model, it's the line that the light hits and creates a pretty good guide. Also, with the hair, I tend to skip out on the stray strands for images this size, if you'd like to find out how to crop hair I have a Tutorial here.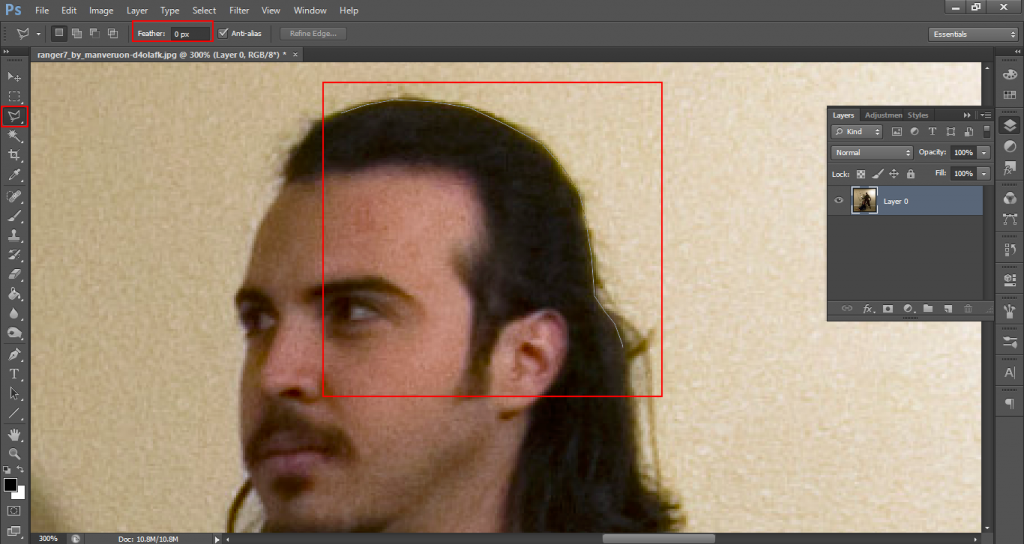 Once this is done, Go to Edit – Cut – Paste and it will appear in a separate layer.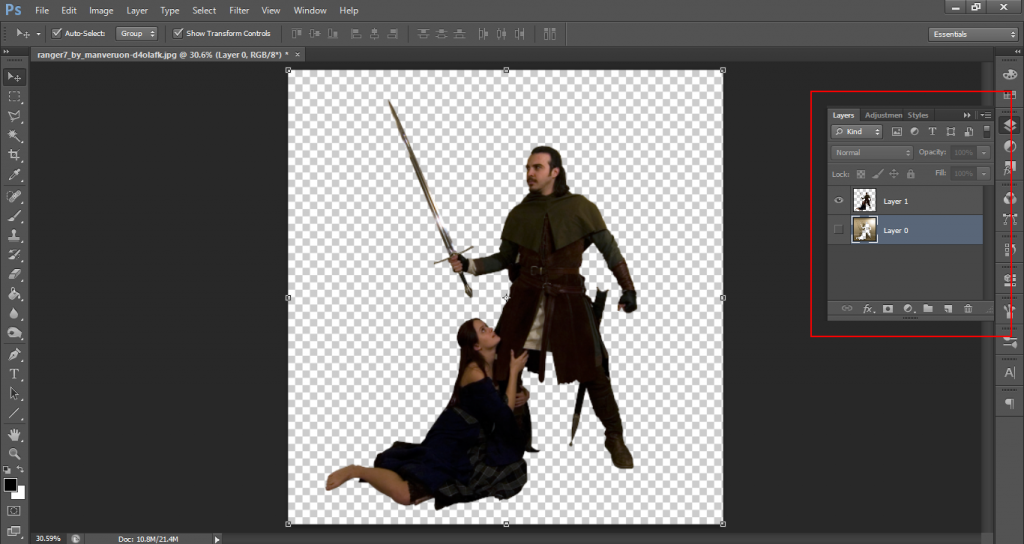 I noticed that this image was a little too grainy for my liking, so I choose to reduce noise. This isn't a necessary step, but here is how to do it: Filter – Noise – Reduce Noise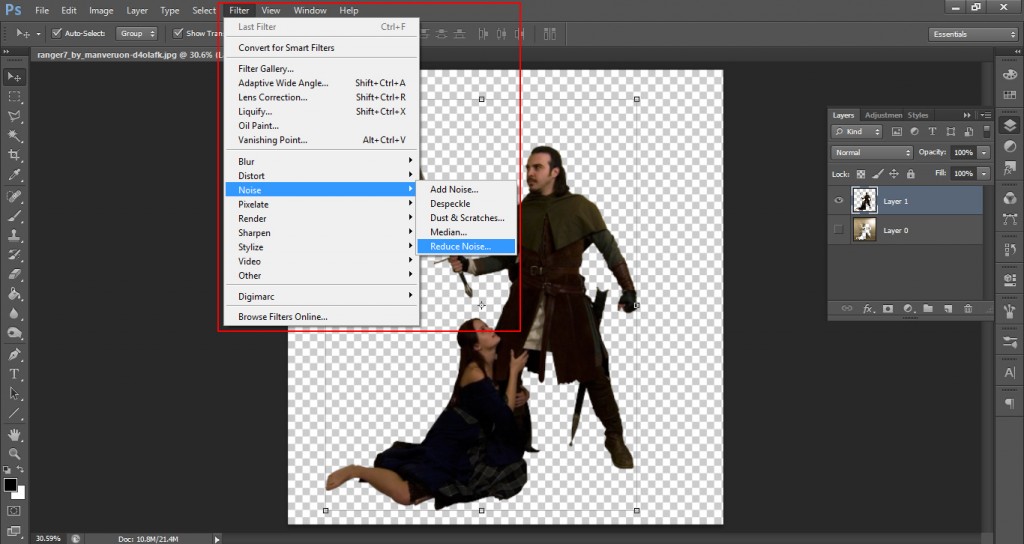 Then by sliding the Strength bar forward, you will notice the grain start to disappear. Be warned though, don't go too far or the image may start to look plastic.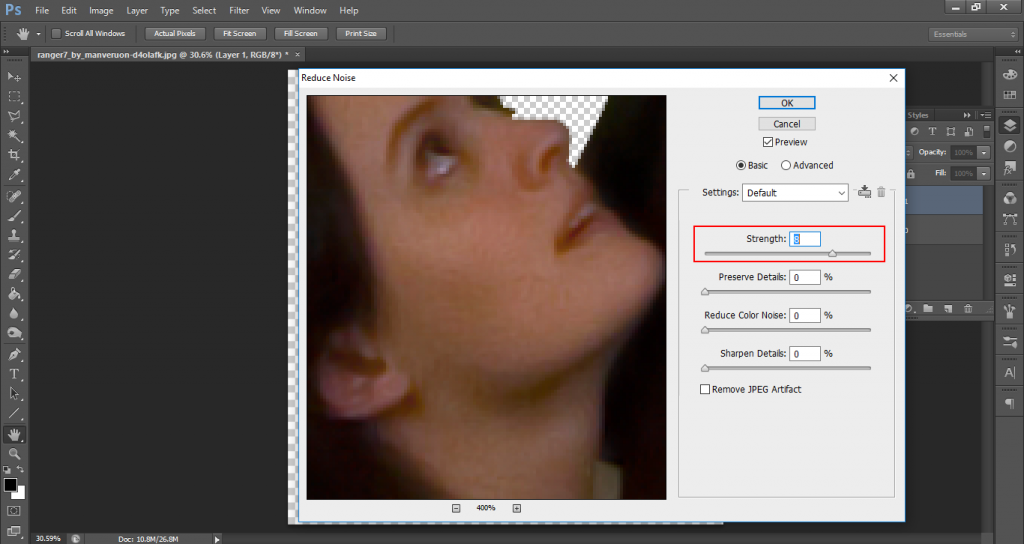 I also Adjusted my Levels a little: Image – Adjustments – Levels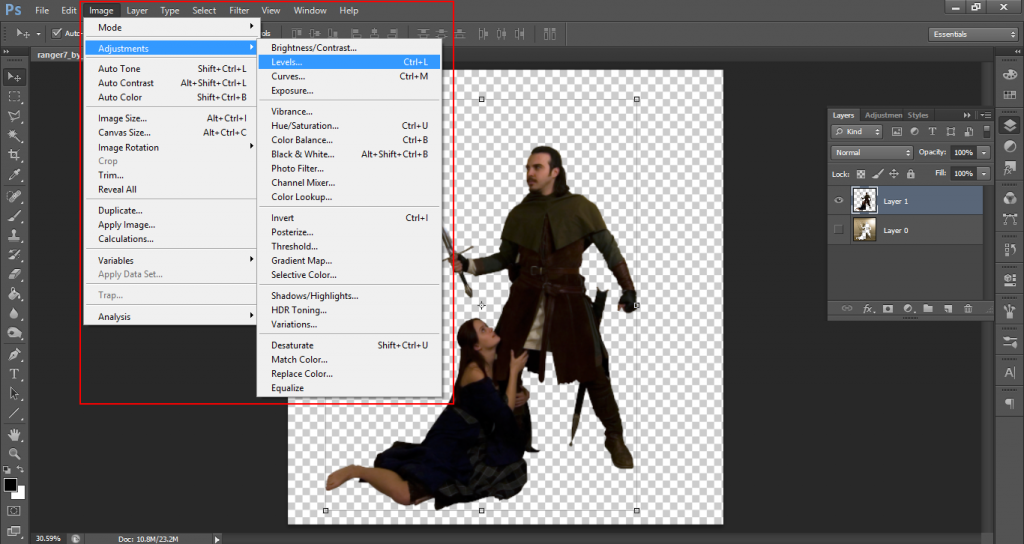 You may need to adjust your Levels when your image looks a little washed out, levels will bring the shadows, mid tones and highlights right back and give your image some life again.

Now you may have noticed the 3 Sliders highlighted, what I tend to do is click and drag the white one to the left, the Black one to the right and the middle one to the left, but just slightly.
You may have to take a little time and play with this. You need to develop an eye for when it looks better and when it doesn't, that's not something I can teach you over a Tutorial unfortunately 🙁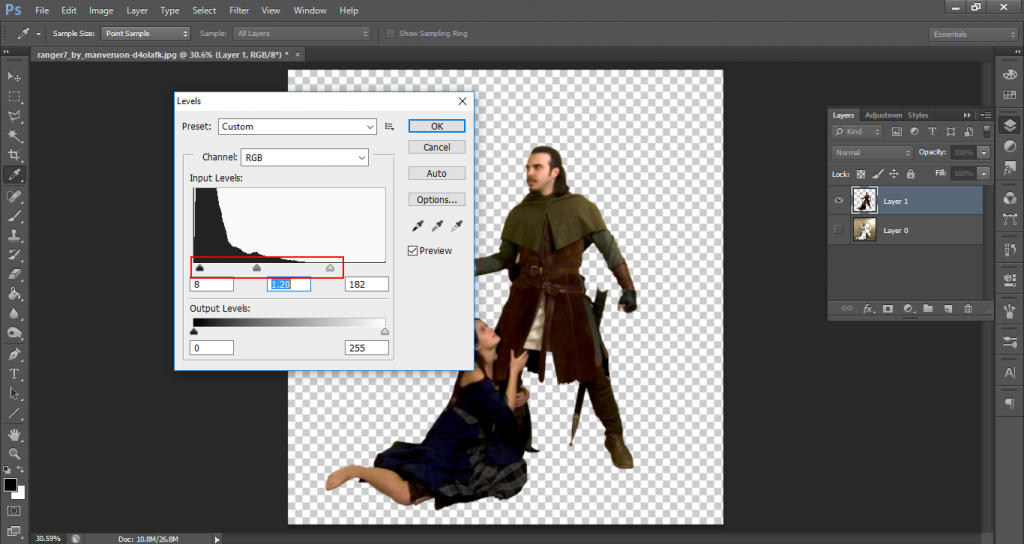 With that being finished, now select your image, copy and paste it on top the background that you have chosen, which will be a new file. I would suggest you pre-crop the background image/adjust it with (Image – Image Size) to the size you need or want before you do this. My background was originally 1600 px wide, but I reduced that to 1200 px.
Once your image has been pasted you may have to adjust the size, I use Edit – Free Transform to do this.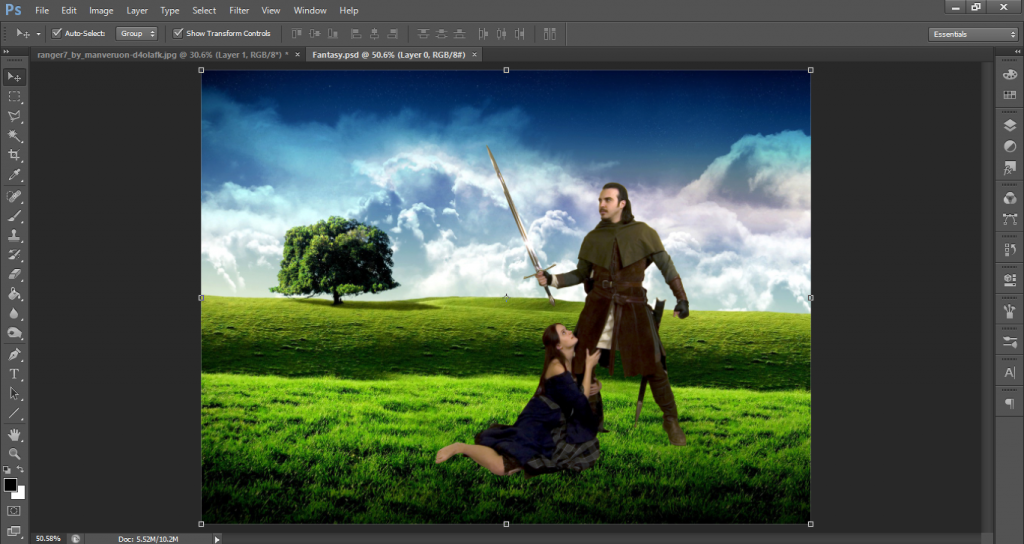 Now for the Fire.
I'll use Colour Range to select the Fire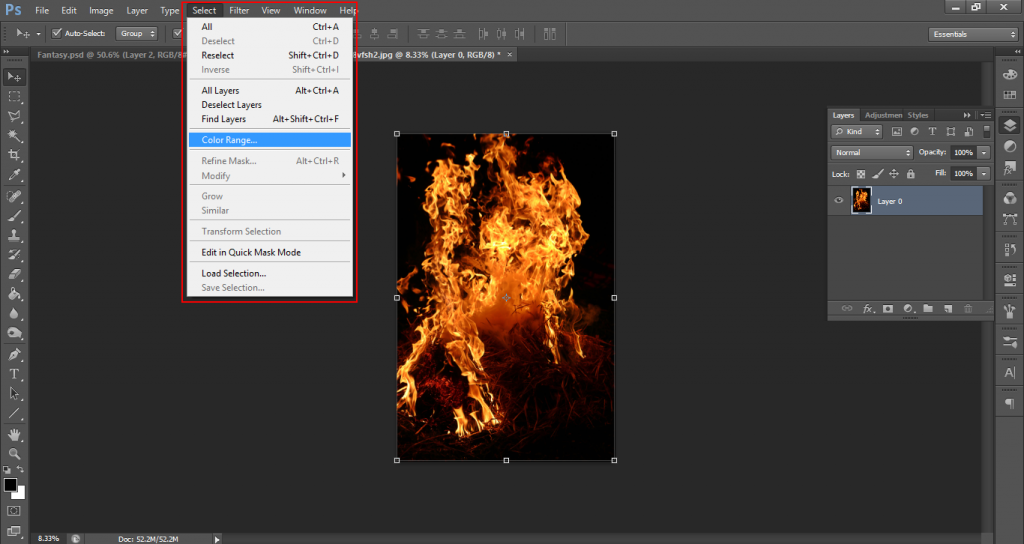 Click on the Eye Dropper indicated below, then click on the Black background (you may not need to do this depending on the image). Move the Fuzziness slider to adjust the selection volume, I stop when I can see details in the image, Note: you select the colour you are looking to delete, generally that'll be the background.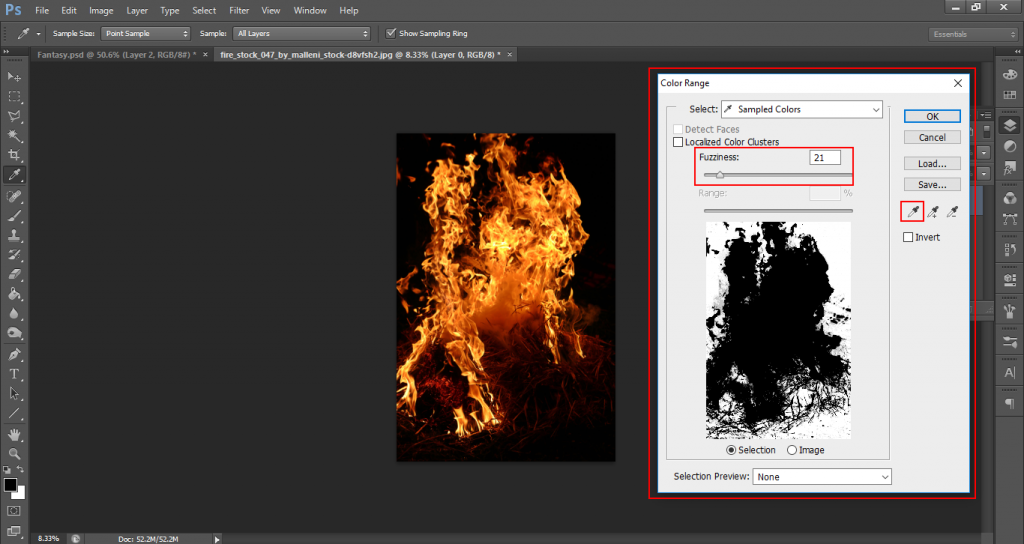 Press Ok, then click on Select – Inverse to select the Fire itself.
Then, Copy and Paste that onto your main image.
You may have to do this several times with different Fire images, which you will see over the next couple of images.
Work with it and let your creativity shine.
I also worked on my Levels with the Fire to improve it to what I felt looked better.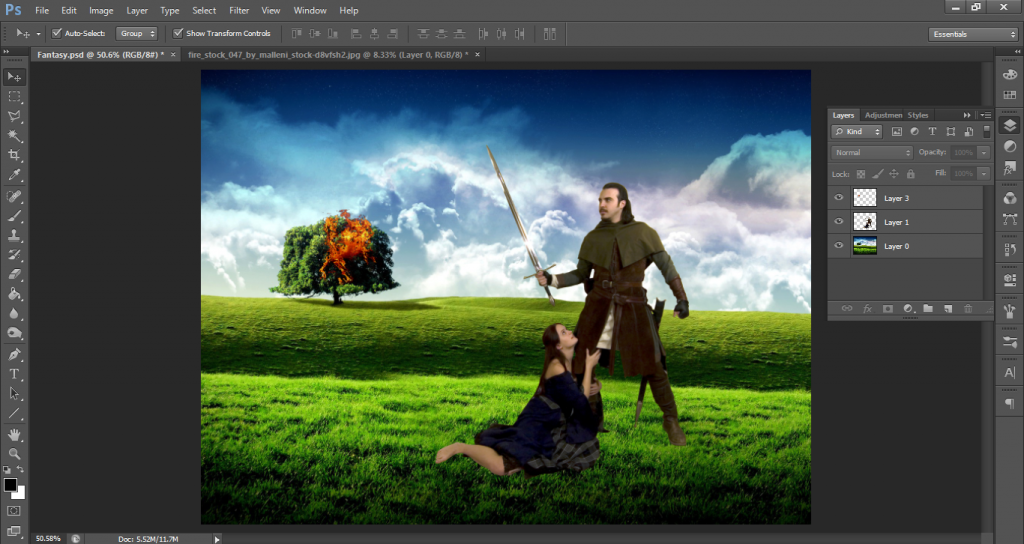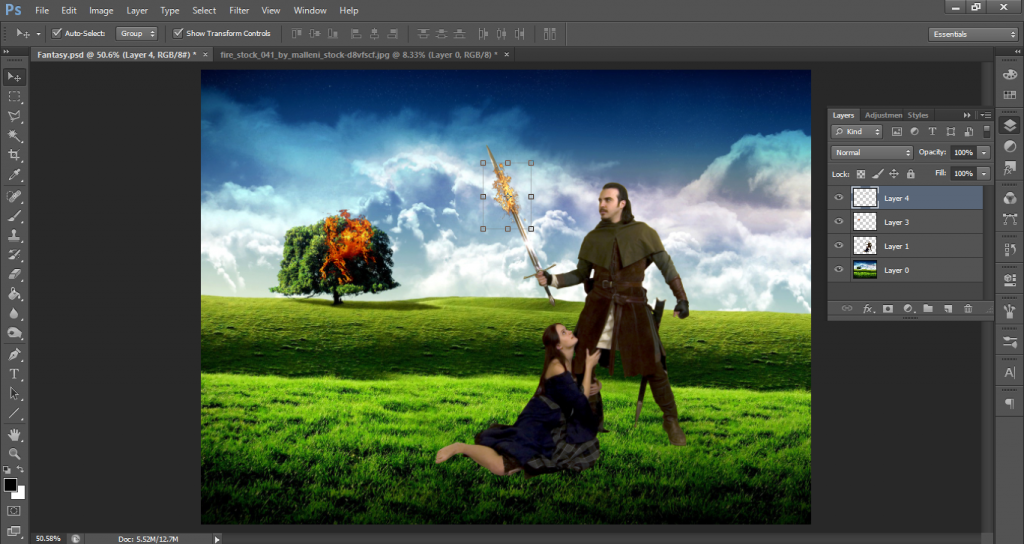 So at this stage, I have all of my Fire in my image. Then, what I did next was Duplicate the Models into a new Layer (On the Layer Select All – Copy – Paste) and moved that Layer to the Top by clicking and dragging.
Then I erased areas on the sword to make the image look like the Fire was twirling around the blade.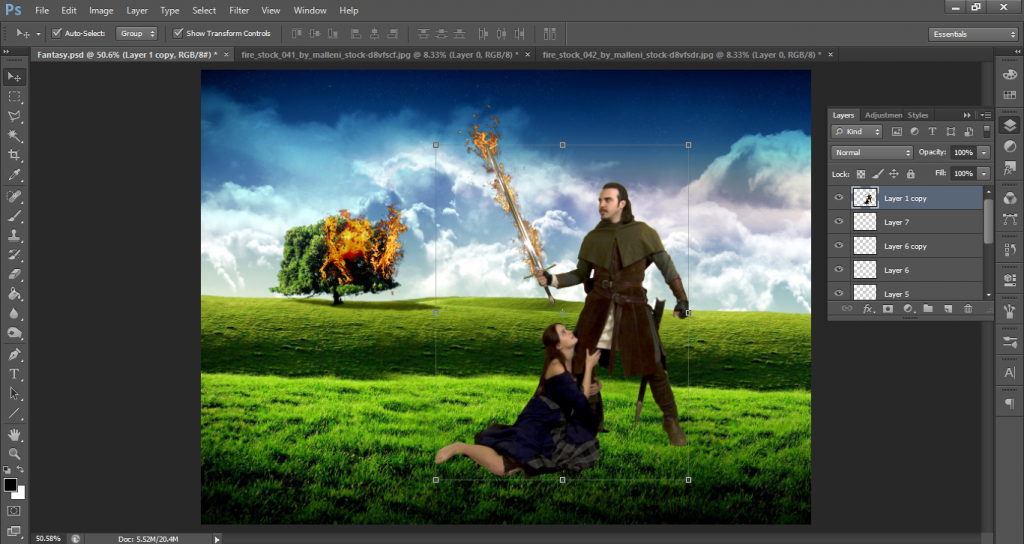 Next up was my Shadows, this is Simple, just use your Brush Tool with a soft brush as indicated and with a low Opacity.
You will be adjusting your opacity as you go, layering over the effect, so make sure to do all of this on a new Layer below the Models.
I changed the size back and forth, just like I did at the start, with the – and + keys while holding Ctrl.
Work with it and do what you feel looks good, It'll take a little bit to get used to this and you'll probably have to erase back and forth just as I did.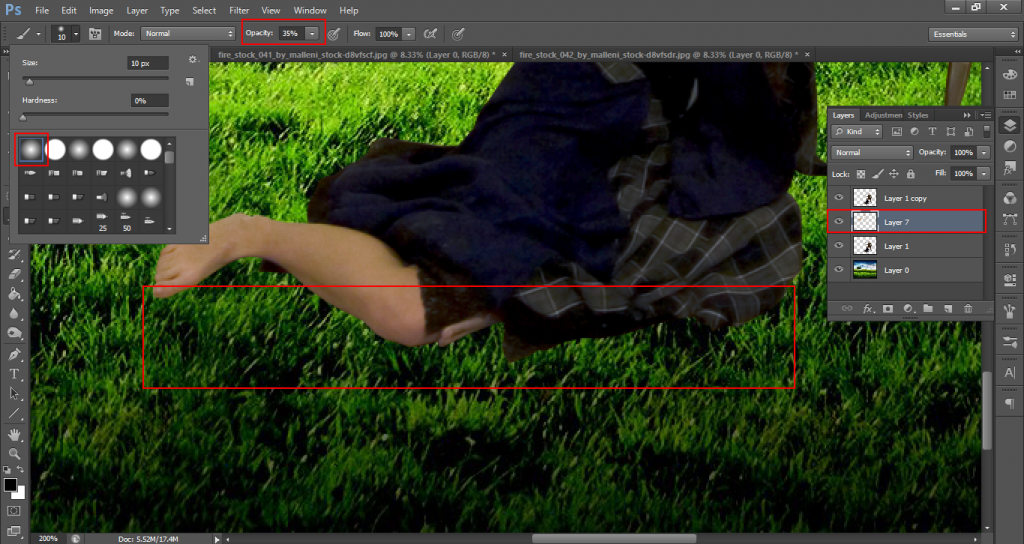 So now my image is complete, just one more thing to do and that's to save and exit out of Photoshop, then open it in Lightroom to apply my Sleeklens Preset.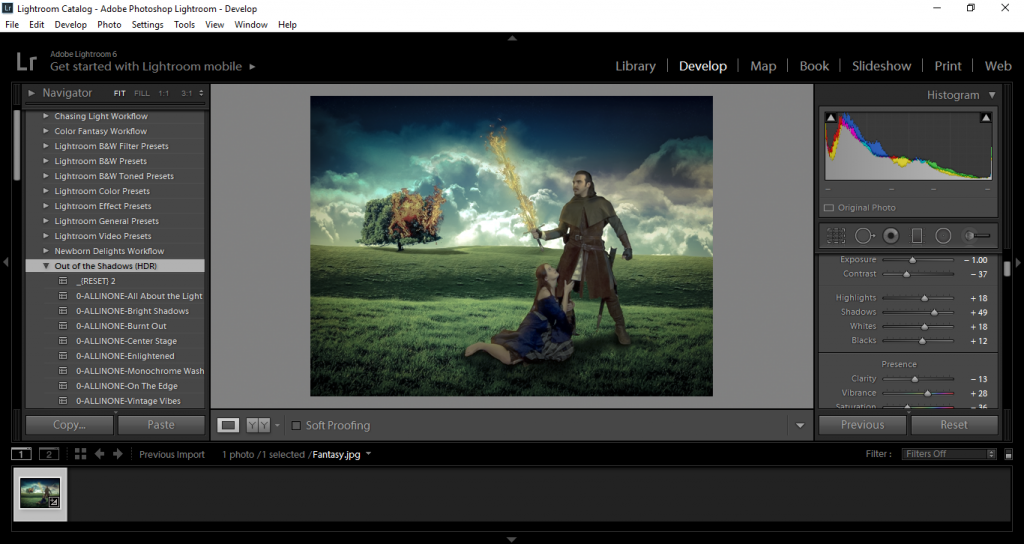 I hope you enjoyed this Photoshop Tutorial and learned a great deal, until next time 🙂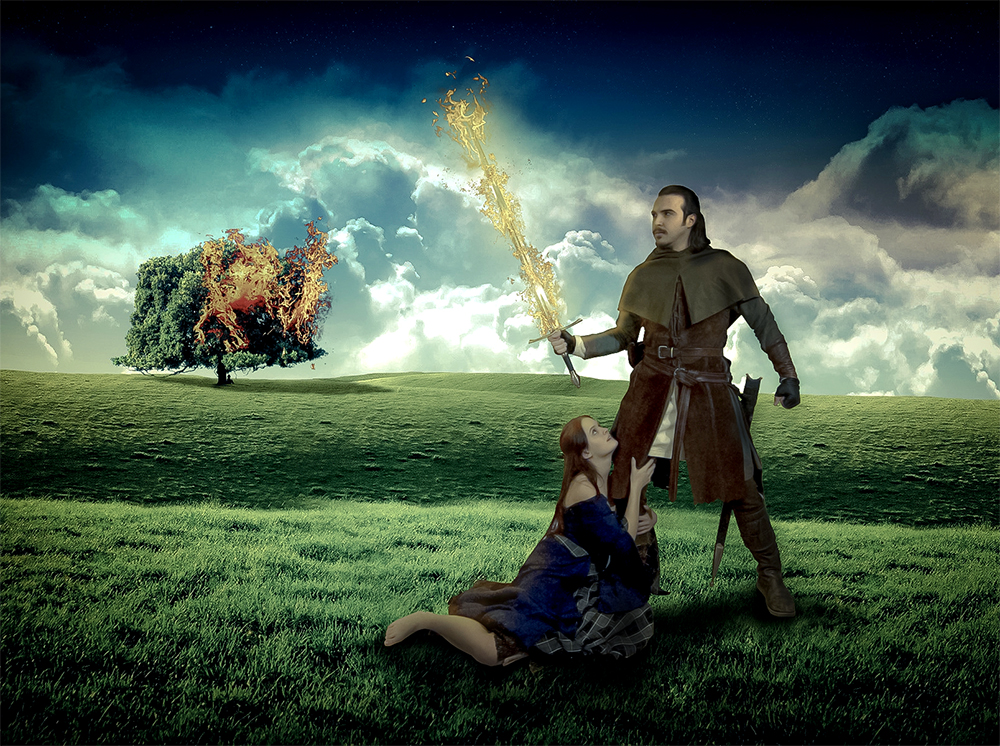 The following two tabs change content below.


Graduated from college in 2002 with a degree in Art & Design, I started exploring my way in Graphic Design and Professional Post Production. Full-time freelancer since 2011.