How to Create Cinematic Color in Film Strip Photoshop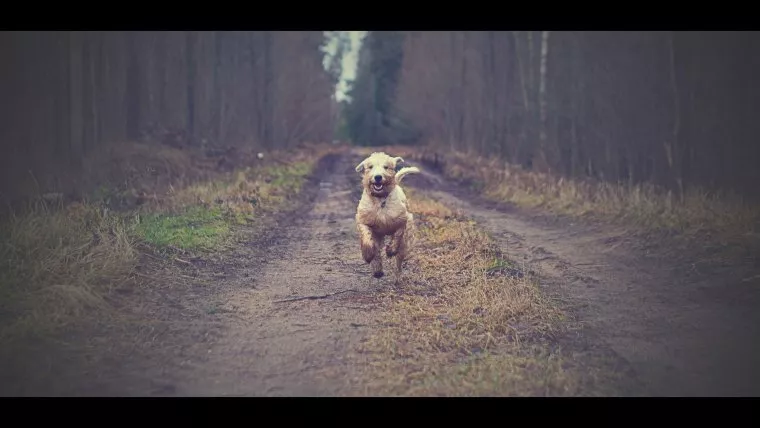 How to Create Cinematic Color in Film Strip Photoshop
www.sleeklens.com
Welcome back to Part two of our Photoshop Tutorial, so as a summary lets go over what we have done so far as a refresh.
So, so far we have got our image and duplicated it, then we added a solid colour and changed the Blending Mode to Exclusion before we played around with the colour after we dropped the opacity on that solid colour layer.
Now!
Next up…
I just want to talk about the colours that we chose, so just a little bit of colour theory here that I follow myself, so you can essentially use any colour that you want to use yourself, but a little rule that I use is Blue and Greens equals cool and Red and Yellow equals warm, so depending on your image you may choose according to the dominant colour on your image or the dominant theme/theme you are going for…
So think about it this way, if your image was a beach scene you would probably choose a nice yellow-based colour to increase the warmth and so forth unless you were going for a specific look which I am going for in this tutorial which is the cinematic look, which uses a lot of blues to cool the subjects down.
Ok so on with the tutorial, next I want you to create another duplicate of your image and change the Blend Mode to Overlay this time.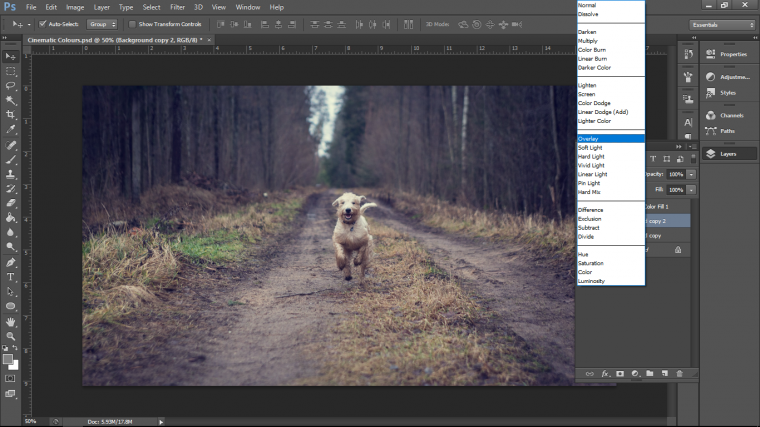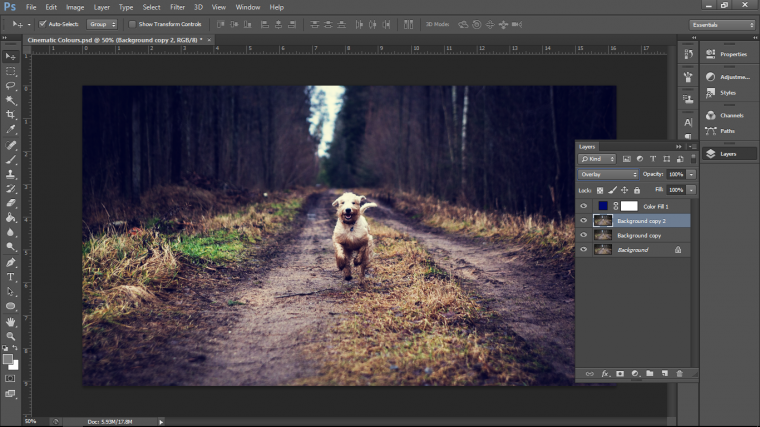 Next we will go to Filter – Other – High Pass
What this will do is to add a little bit of sharpening to the image.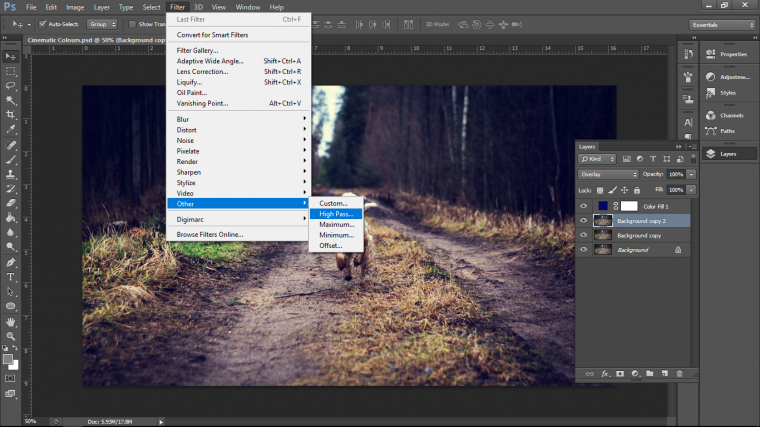 Choose a Radius of 5, I think that should do the image nicely, then press Ok.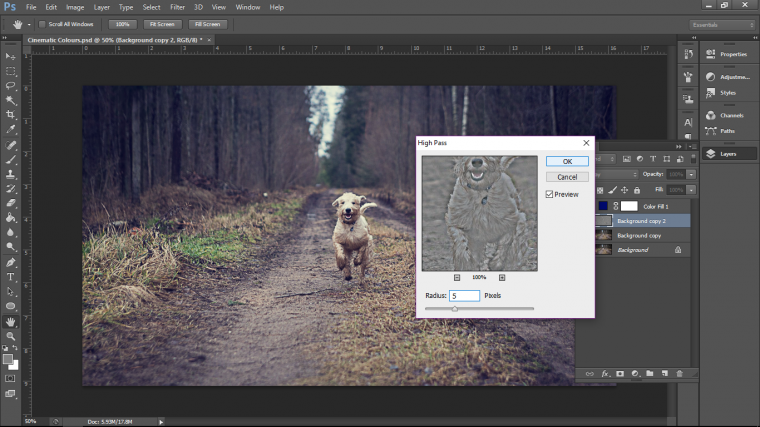 You can also drop the opacity on that layer to about 50% if it's too much or until it looks good. I'll stick to 50% as I'm pretty happy with that.
Next I'm just going to add a little bit of Vibrance to the image, so I go to Layer – New Adjustment Layer – Vibrance

When the panel appears I go straight to the saturation slider and move it to the right, for me I was happy with +50 you may find better results elsewhere.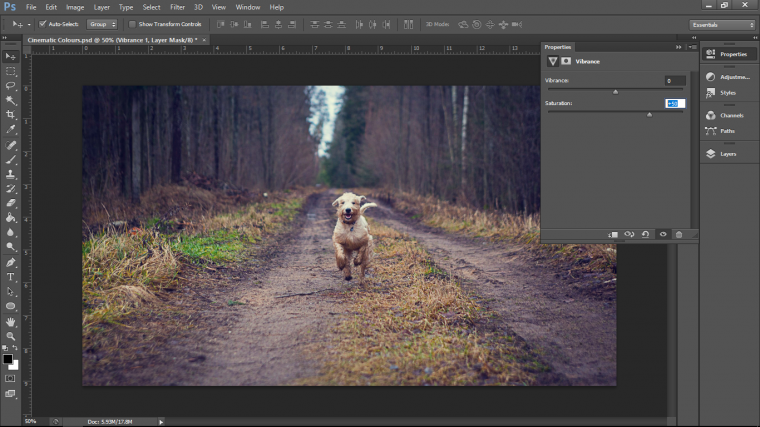 Then I want to create a Gradient Layer, you'll find that in Layer – New Fill Layer – Gradient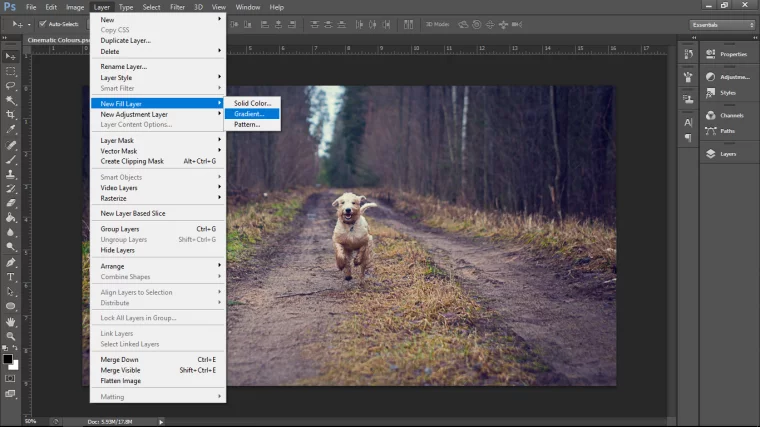 Click Ok and you will see a panel appear, first thing that you want to do is to change the setting to Radial.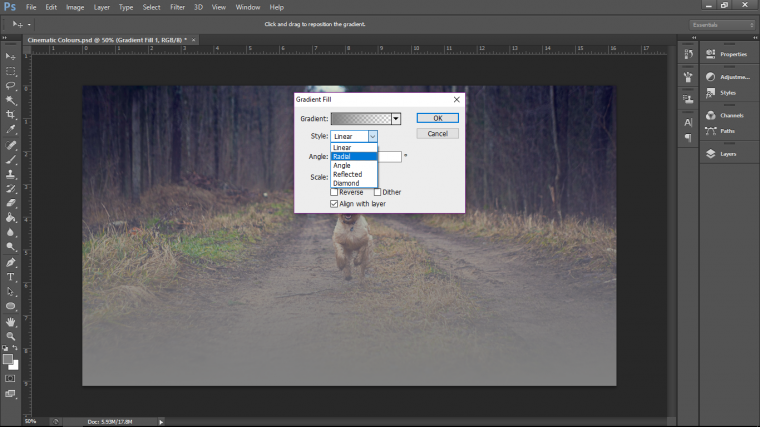 Then click reverse.

Next thing you want to do is to choose the gradient with half it's opacity to zero, it should be the second one across, you may also need to change the colour side to black.
You do that by double-clicking on the Gradient Bar, then when the panel appears you'll see another Gradient bar with 4 little tabs at the edges both top and bottom.
Make sure the tabs on the left are Black.
So again you double click on these and change them to Black and press Ok.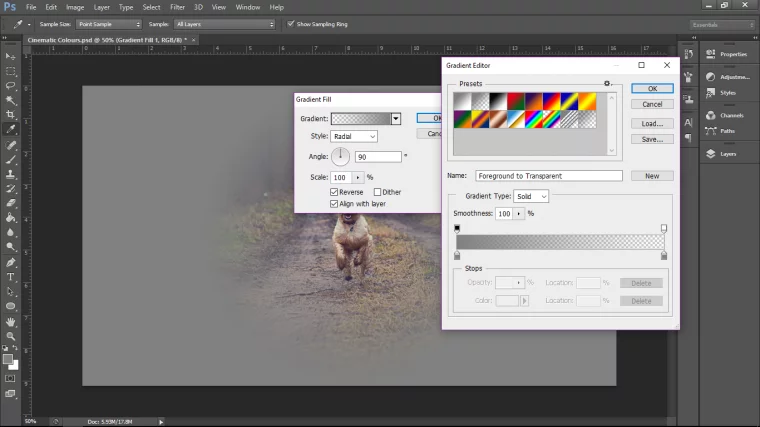 Then at the bottom of the panel, you will see Scale, click on it and use the slider to get to the point where your gradient is just creeping in at the edges and press Ok.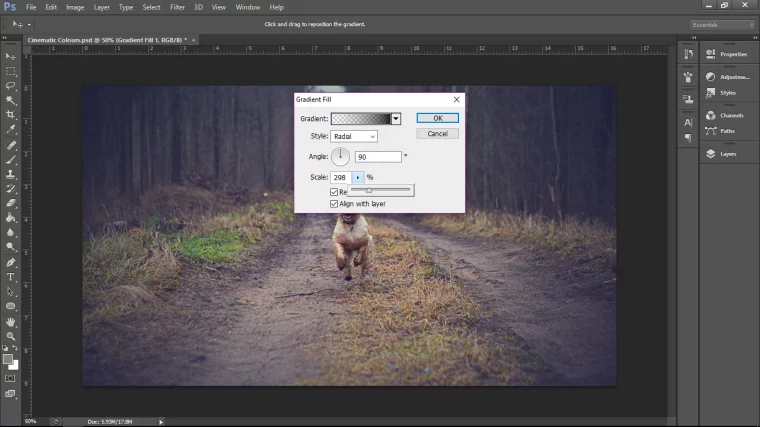 Make sure this layer is at the top of your layer stack, if it's not, just click and drag it to the top, easy as!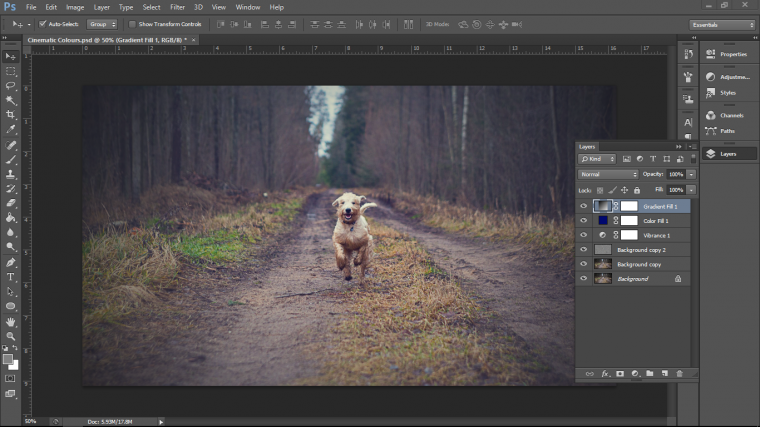 Next we're just going to play around a little bit with the Exposure, you will find it where you have been getting the 'New Adjustment Layers'

The only two here I am concerned with is the Offset and Gamma, I'm just going to nudge them to the right just a little bit and leave it at that.
I want a kind of faded effect with the exposure.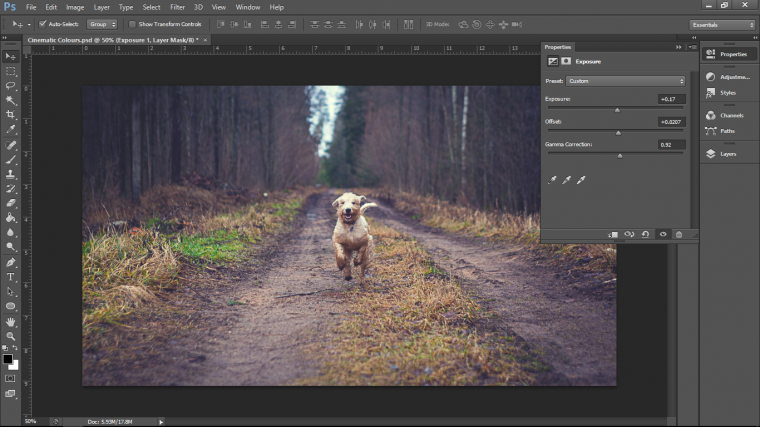 At this point, if you wish you can go back into your Adjustment Layers and play around if you are not 100% happy with your results so far
Now create a new layer on top of everything.
And using your selection Tool just create a little rectangle right at the top.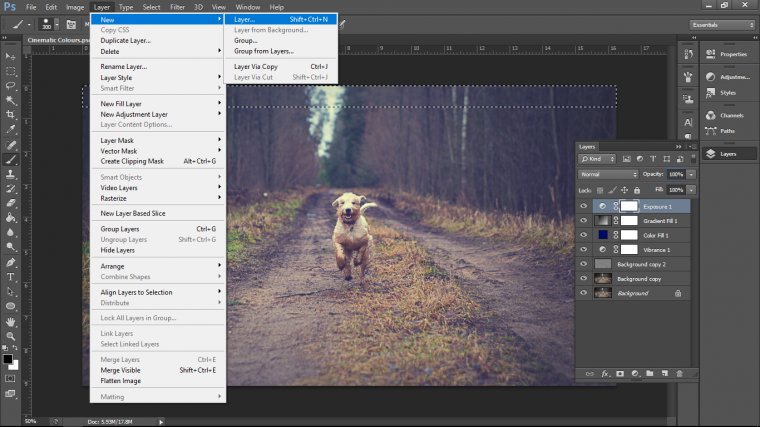 Next grab a Brush with Black and paint in that.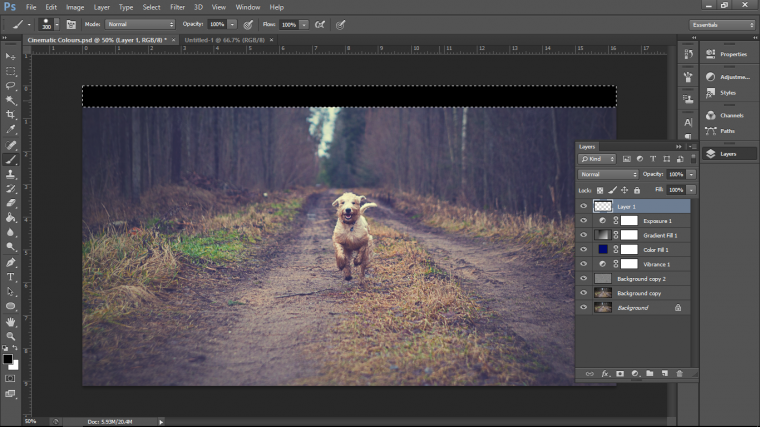 You can Deselect in the Select drop down box.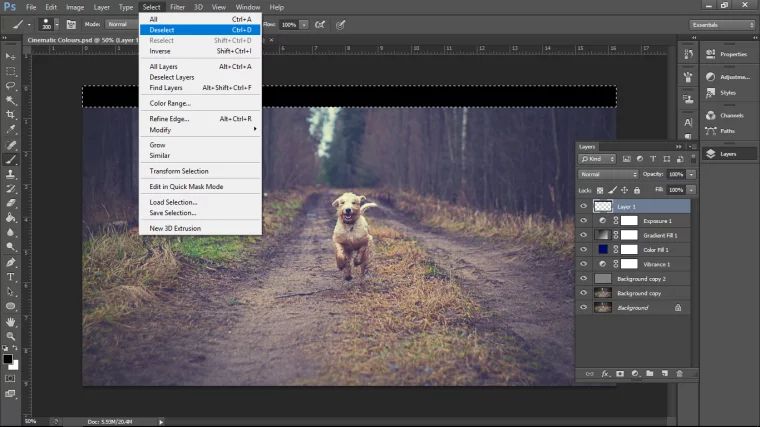 Then just duplicate that layer and move it to the bottom using your mouse to click and drag on it.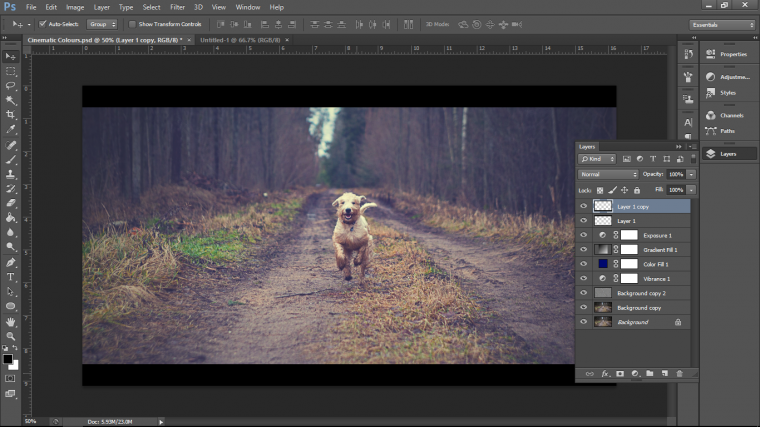 Again if you want to adjust some of the settings you can do so.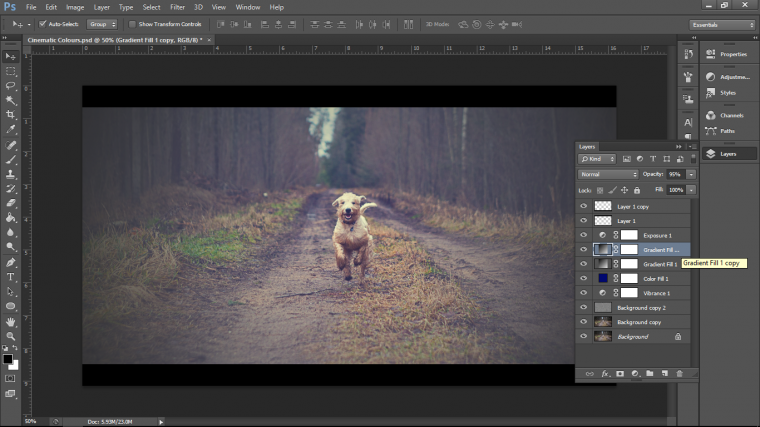 And that's it, we're done 🙂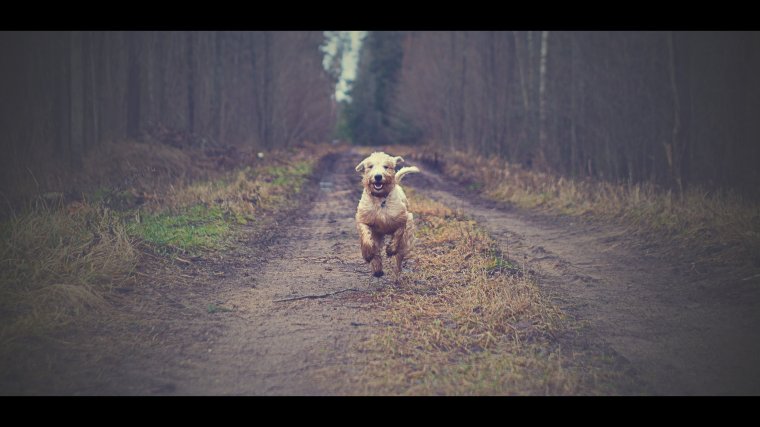 The following two tabs change content below.


Graduated from college in 2002 with a degree in Art & Design, I started exploring my way in Graphic Design and Professional Post Production. Full-time freelancer since 2011.