How to create an Atmospheric Blur Effect in Photoshop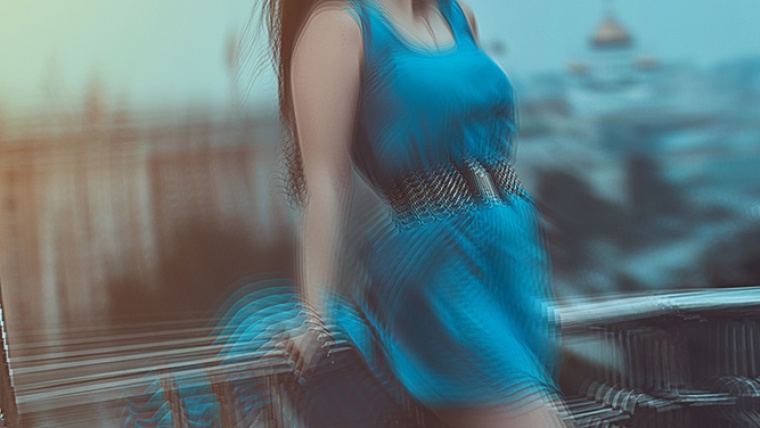 How to create an Atmospheric Blur Effect in Photoshop
www.sleeklens.com
Hi all, today we'll be adding to our photographic repertoire with some more Sleeklens Photoshop tutorials coming up this month so stay tuned.
Right now I'm going to show you how to create an Atmospheric Blur Effect in Photoshop.
Right now we're going to be looking at Focus Blurring were we'll be keeping focus in on our subject but the rest of the photographic image will have a motion blur around it which will add a great looking effect to your image and give it a nice atmospheric feeling.
So first up I would like you to click on Ctrl J to Duplicate your image layer, this is good practice to have when doing any sort of edits or manipulation work so you'll always have your original to fall back on if anything goes wrong.
Cool so you have your image duplicated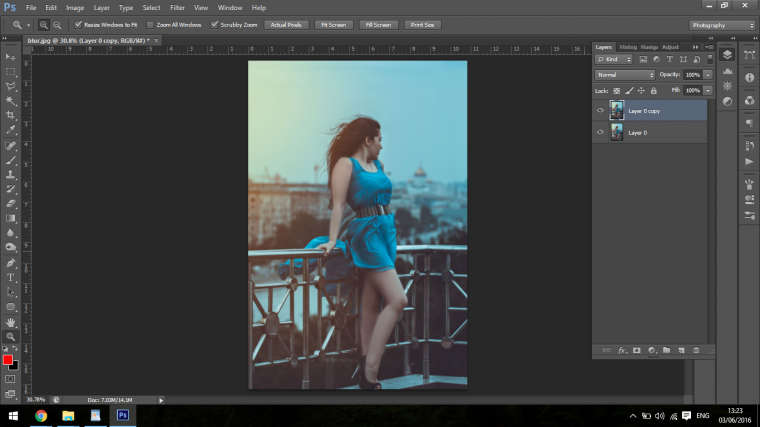 So now repeat the step and duplicate another image again so you'll now have 3 images.

Next step is to go to Edit – Free Transform and enlarge your image by at least one pixel, so you are only enlarging the image by the slightest little bit.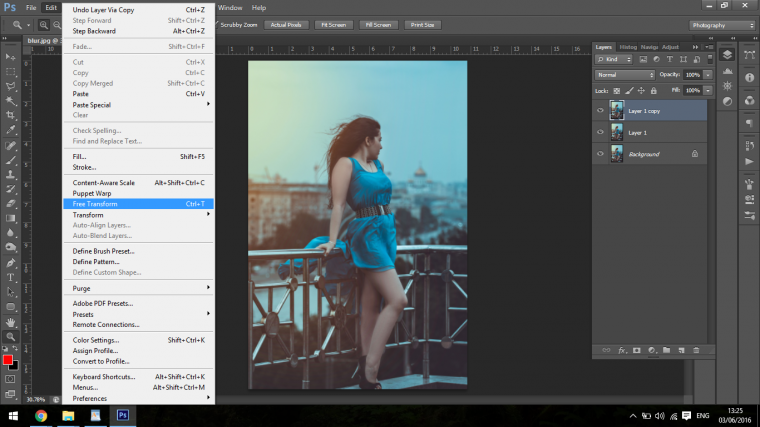 Then once you have this done you will want to hover over the edge of the image where I have shown until the rotate icon emerges, once you see this you will be able to click and rotate your image.
If you want you can also just rotate first, then lower the opacity and adjust the image over the face easy enough.
While you are doing this make sure that the face stays on the face, so in other words you are rotating so the point would be the middle of the subjects face, this doesn't have to be perfect because if you really have to, at the end you can take you eraser tool, set it on a low opacity as shown below.
Then you can start to click over with the eraser tool the face a erase the following layers over the face which I'm about to discuss now.
So what we are going to do now is duplicate layer 3 and go through the same steps that we took to create 3 itself, so you are enlarging the duplicate which will be called layer 4 and you are enlarging it slightly and giving it a little bit of a rotate at the same time.
Now you will have to repeat these same steps until you have at least 7-8 rotated and enlarged, each having been rotated a tiny fraction more than the others and at the same time enlarged a tiny fraction more than all the others.
Once you have done this you can click on Control G to create a new group, then click on Layer 3, hold Shift and click on the last layer which will be 8 or 9.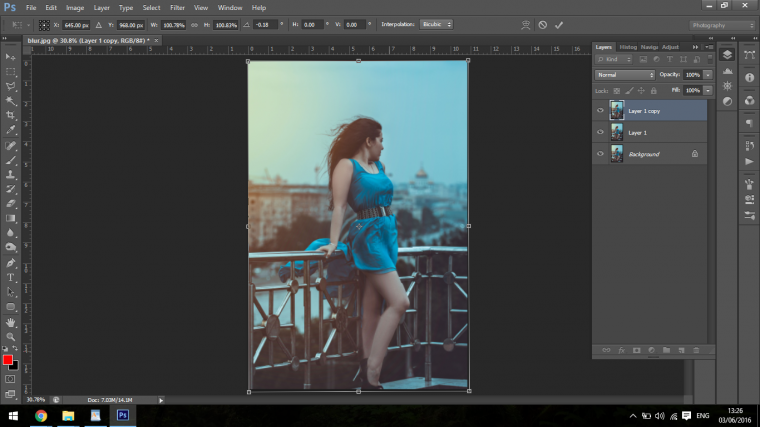 All your new layer right now should be highlighted, then you can simply click and drag them into the Group folder or just Control G will group them.
Once everything is in the group folder the next step is to change the opacity of those individual layers.
So the first one to change would be layer 3, we're starting from the inside out so the effect radiates outwards and gives a nice gradation.
Change this layer to 90%, then the next 80% and the next 70% and so on and so forth down till the last one is 10% or whatever, you could go all out crazy with this and have like 20 layers and each drop by 5 if you'd like to check that out so have fun 🙂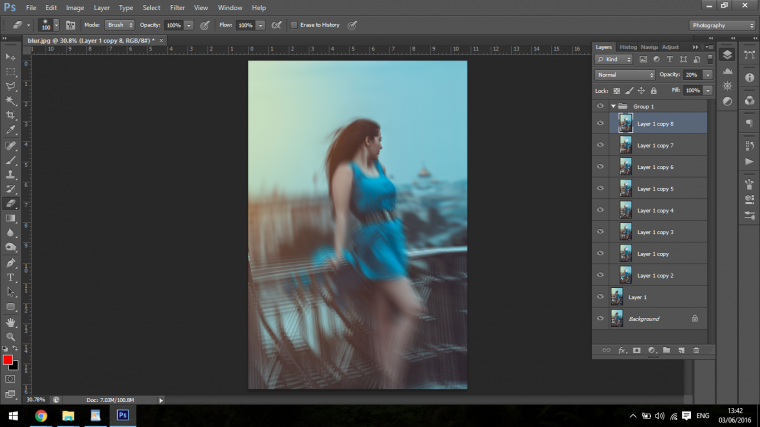 I think this looks really great, it kind of reminds me of the impressionist Artist Degas paintings with all the movement.
One last little effect you could add to this is create a new layer, then hit Ctrl + Shift + Alt + E to create a stamp of what you have below then you can select, a stamp is just a layer with all the other layers merged together.
Then change the layer to overlay.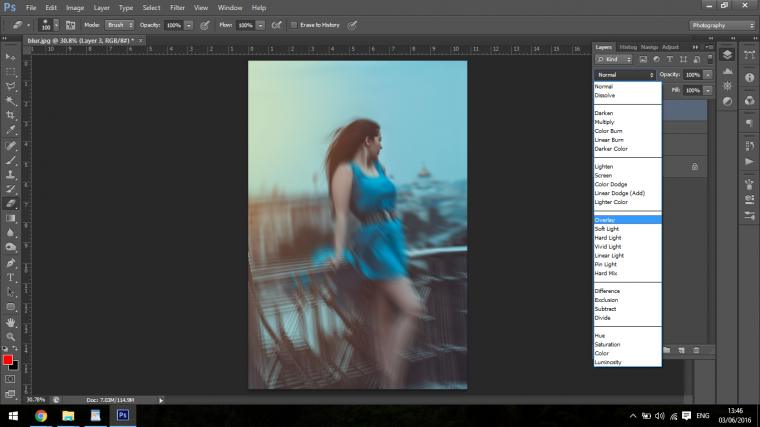 Then go to Filter – Other – High-pass to add some sharping to your image.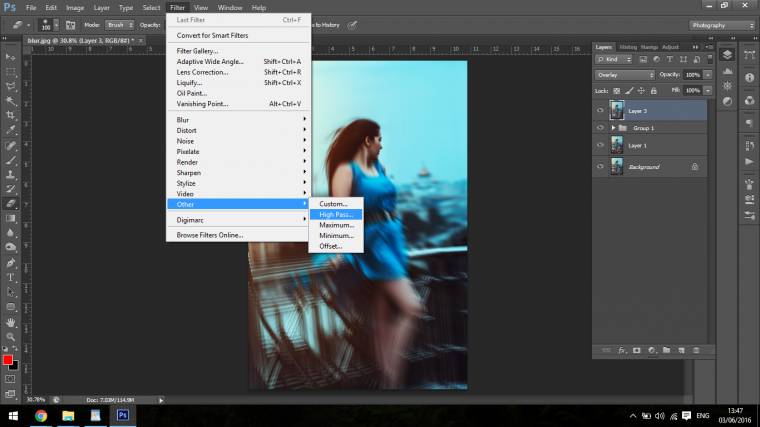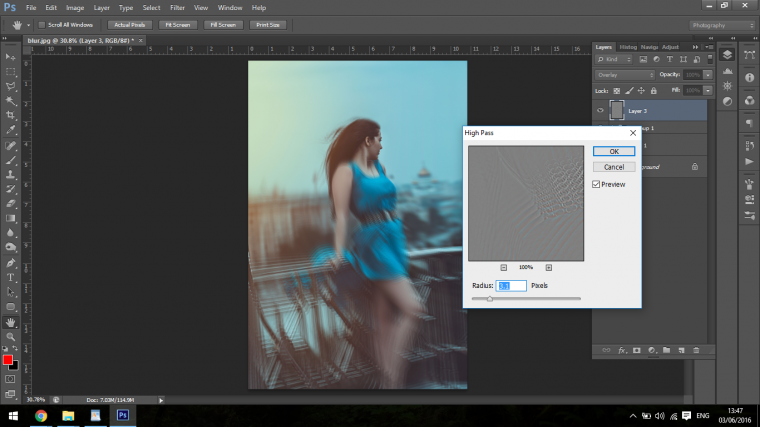 Shift your radius bar up a little till you are happy and then click on the mask icon and being sure to have clicked the mask.
Use a brush and paint white using a soft brush over the face of your subject. if it looks too harsh you can off course drop that layers opacity.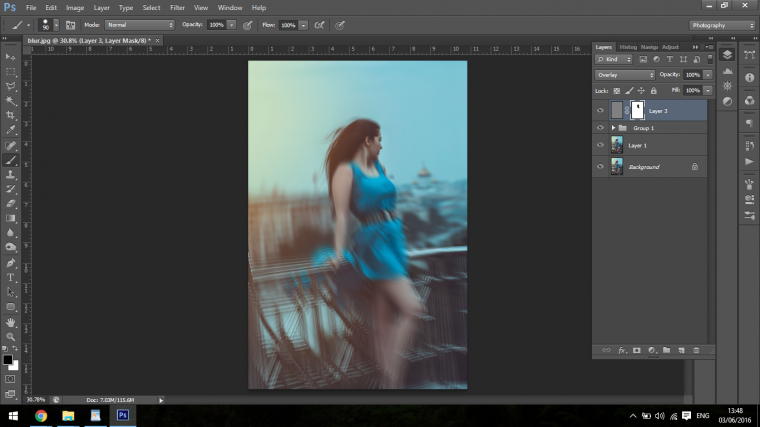 This is my Final Piece.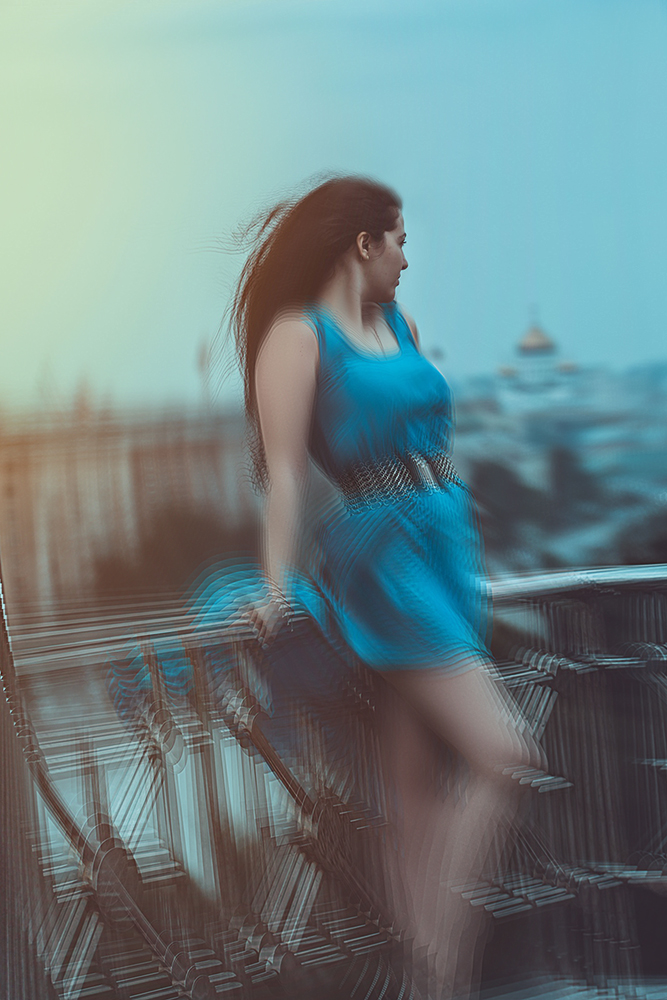 The following two tabs change content below.


Graduated from college in 2002 with a degree in Art & Design, I started exploring my way in Graphic Design and Professional Post Production. Full-time freelancer since 2011.