How to change Eye colour using Photoshop.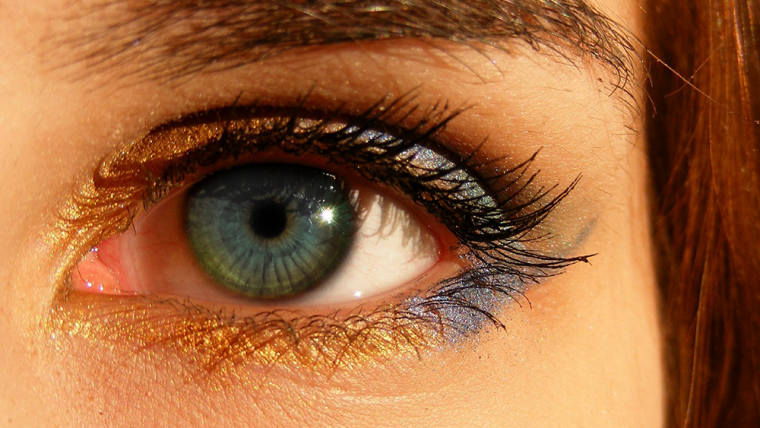 How to change Eye colour using Photoshop.
www.sleeklens.com
Hello there once again,
Welcome to another super exciting Photoshop tutorial, where we will be learning the ins and outs of this great program.
So for today we'll be taking a look at how to change the colour of a subject's eyes in Photoshop, for no other reason than, it's fun to do, and maybe you want to look at your self with blue eyes instead of green.
I'm sure that there are many of you out there in the Photo Manipulation world that would be able to put these little tips to good use.
Anyways, lets get right to it.
I'm going to start with a Brown coloured eye, because it's the hardest to do. When you can do this you will have absolutely no problems with changing the other colours.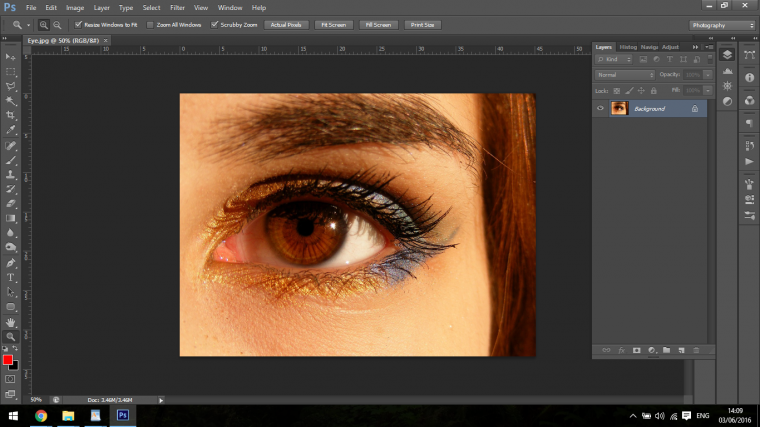 To start out, you'll need to create a new layer. You can do this by using the keyboard shortcut Ctrl J.
Next, we're going to make a selection around the eye using the elliptical Marque Tool.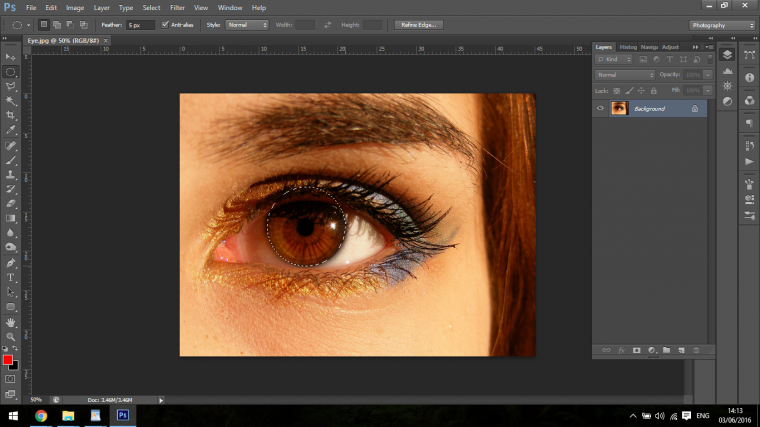 Don't worry if it's not quite right the first time, just try to make it similar in size, clicking from the top left and dragging down. Then you can use your arrow keys to position the selection.
To help us better see what we're doing, we'll be using a curves adjustment layer as shown below.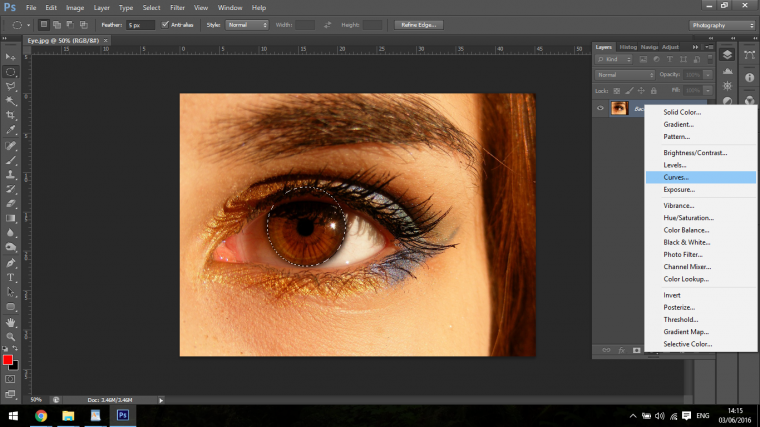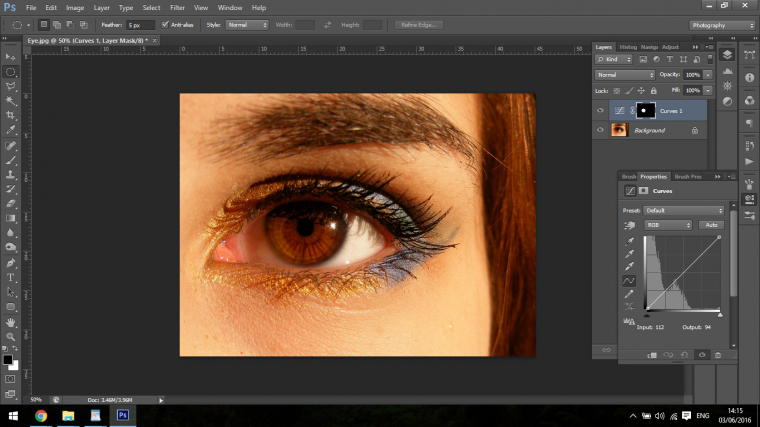 Next, click in the middle of the histogram, on the line, and move it up to roughly where I have it in this screenshot.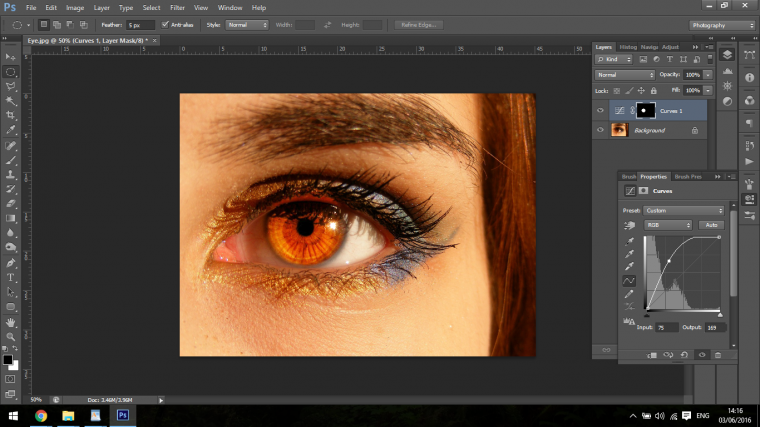 The next step is to go to Filter – Gaussian Blur, changing the size of the blur until it appropriately fits the iris.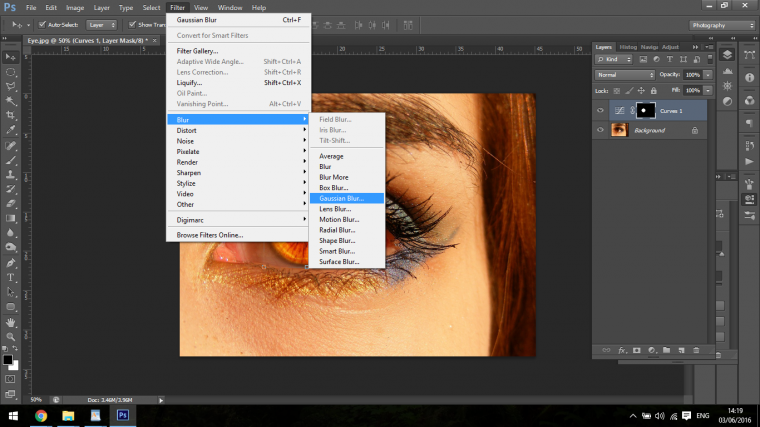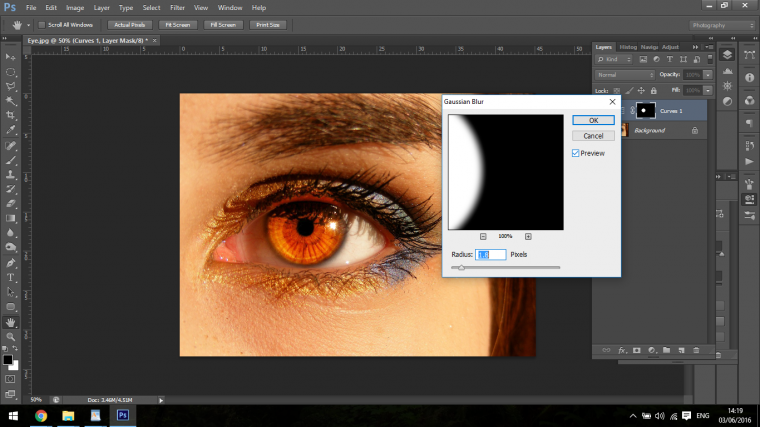 If you need to, you can use the free transform tool to alter the size or to rotate it as you find it best suitable.
Now we'll have to create a group, you do this by hitting Ctrl + G on your keyboard.
Then, if you hold down Alt you can click on the layer mask and drag it to your group folder. This way it will give your group folder the same mask as your curves adjustment layer.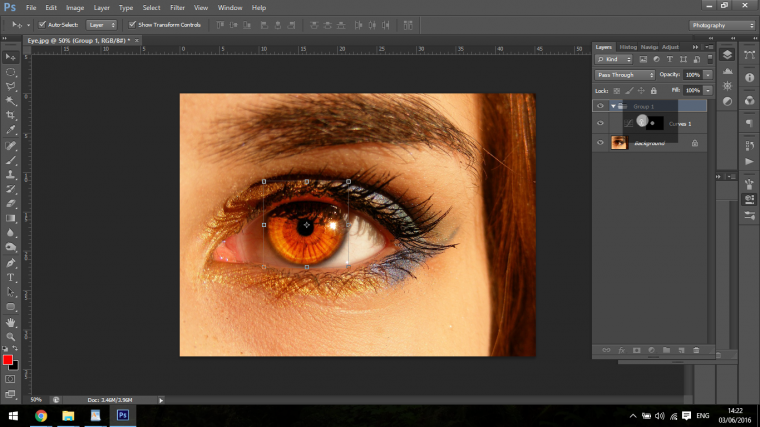 N0w open up a Hue and Saturation Adjustment layer.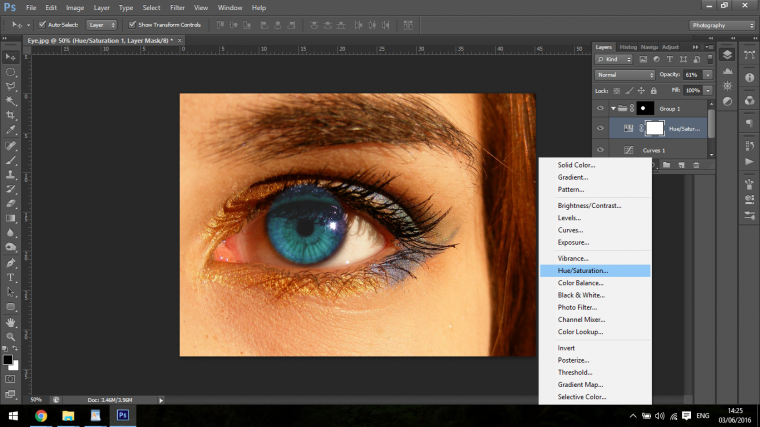 Now you will be able to move your hue slider and change the colour of the eyes. For this part you will most likely have to adjust the saturation down a little, so the image is not totally unrealistic looking.
There will be certain areas on the eye that you will have to further refine in the group layer mask, so take your brush (Black and zoom into the eye) and paint out the white part of the iris in the center.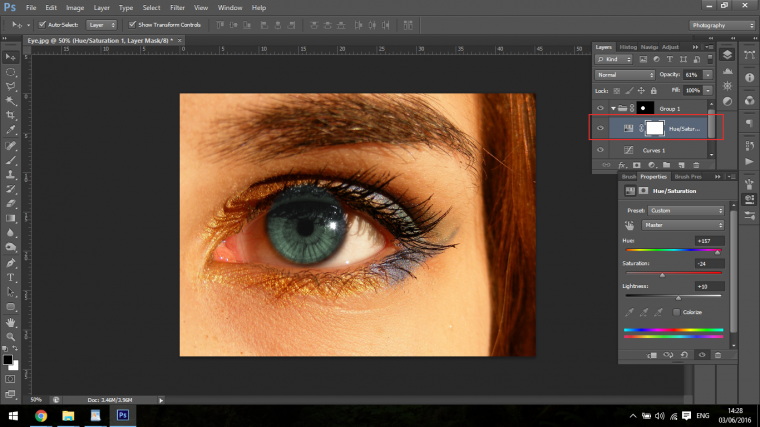 In most cases the eyes are a little darker around the edges. To do this we will create another Curves Adjustment Layer and darken the eye. inserting it under your previous layer, then with the blend, the two should go together with out any issue.
Use the lightness bar for this and slide it towards your left hand side.
Some times you will see several colours in an eye, so with a blue eye you could add some brown speckles in the center.
How you would do this, is to create more hue and saturations adjustment layers, clicking on the individual channels and working with those. Then using the layer masking technique we've been working with, we can paint in the areas where you want to have that specific colour. It's pretty simple.
You can play around with these techniques and adding several colours as you go along, even creating some crazy effects if you want to.
Some of these curves layers may be a little too sharp, so you can use the Gaussian blur option to soften those down a little bit if you wish. Use Filter – Blur – Gaussian Blur.
Hope you enjoy these and add them into your work, we may have done these just for the fun of it, but you can also use the info in this tutorial to enhance people's eyes realistically as well if you keep the same colour themes.
Take a look at my final result.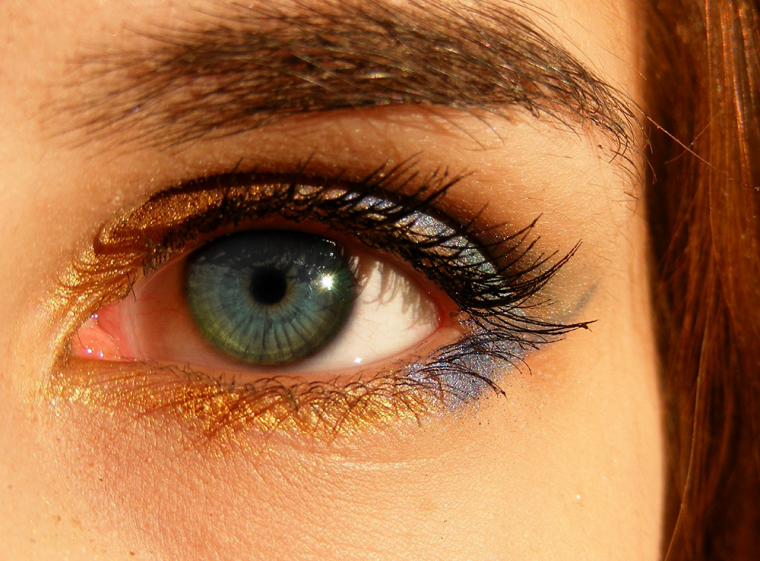 So I hope you enjoyed this lesson, experiment with Photoshop yourself and keep checking us out. We have many new tutorials going up just about every day, as well as some great products. Feel free to explore our large collection of Photography, Lightroom and Photoshop tutorials to help you along your way to mastering digital photography editing.
With our library of tips and tricks you need look no further than Sleeklens 🙂
The following two tabs change content below.


Graduated from college in 2002 with a degree in Art & Design, I started exploring my way in Graphic Design and Professional Post Production. Full-time freelancer since 2011.