Hey eve
ryone! This is Jordan from Sleeklens.com and welcome to this episode of the Sleeklens Photography Podcast. For this episode, I wanted to cover something, something I wanted to talk about for a while, and what I'm talking about is really important must-have accessories for your camera bag.
The reason I came to this topic for this week's episode is because I was actually cleaning out my camera bag, cleaning out my camera chest – as you said like a big tub that has all my camera stuff in its, it makes it easy to carry around if you ever need to go to a different location – take all of your stuff. Is, basically, just a large trunk. And self-cleaning them out, trying to get so messed up a little organized, and I noticed that I have some of these accessories in this separate bag, and I keep them with me all the time! I keep them in my car, I keep them some of my camera maxima take out my camera bag, but I find myself using them more and more nowadays, and I wanted to cover some of those accessories – at least six of them – in this week's episode.
So, some of these are going to be smaller accessories. So many are actually to be pricey ones – as a matter of fact, the first one I'm going to talk about is actually a pricey one – but I'm going to give reasons why I really, really think it's important to keep these accessories in your camera bag at all times.
Kenko Extension Tubes
? Check it out: Kenko Extension Tubes Set
Let's talk about the first one. This is the Kenko Extension Tubes, and for those who not sure what exactly extension tubes are, what you can see is a kind of a hollow piece of plastic or metal, depending on what kind you buy, and what it does is attach to your camera before you put the lens on. So, you do you have your camera you put these extension tubes where your camera lens goes, and then you put your camera lens on the other side of these extension tubes. And what this does is can make a fake, or not really fake actually, it's actually a pretty good solution. It turns your camera lens into a macro lens.
And so, if you are wanting to get into that macro world, but you don't really want to shell out the money to buy a traditional macro lens, getting some of these extension tubes will come to get you started in the right place.
Now, the reason I have is my camera bag – and the reason I was glad I had these in my camera bag actually – is because I was going to a job, and I didn't know exactly what I was going to be shooting up. If it was gonna be a lot of wide-angle shots, or be a lot of just, you know, interior shots as mainly what I do is Real Estate stuff; but this was for business so I was kinda thrown for a loop when I got in there, and one of the things they want me to do is get a really nice close-up shot of the of Canada's printing plate. The camera lens that I had was a wide-angle lens, and the only other I believe I had was little nifty fifty to 50 mm lens – and that doesn't really take that close up of shot… So, I really had two options: I could take as close a shot as I get to this little printing plate, and then just crop in what I want to get when back to the computer and post. Or I can try these extension tubes, and I had these extension tubes in my bag – and really glad I did because I put them on my camera, and I put my lens on there, and I was able to get a really, really awesome killer shot! A really awesome macro shot of this printing plate, and really just say the whole shoot for me having those extension tubes.
So, I haven't used them since, but I always keep in my camera bag because you never know when I want to be able to… when you need them – any of you remember walking around; going for walk with my camera with me, I can always take as extension tubes out and do some macro photography.
Then again, if you're really wanting to get into the macro photography world, getting these extension tubes is way cheaper than getting a macro lens; and you might find when you get them and start playing with them that you really think macro photography is really cool but you don't really want to go into it as much you thought you were. So, you can save the little bit of money and set up a macro lens by using macro extension tubes.
Honsky Aluminum Water Resistant Memory Card Carrying Case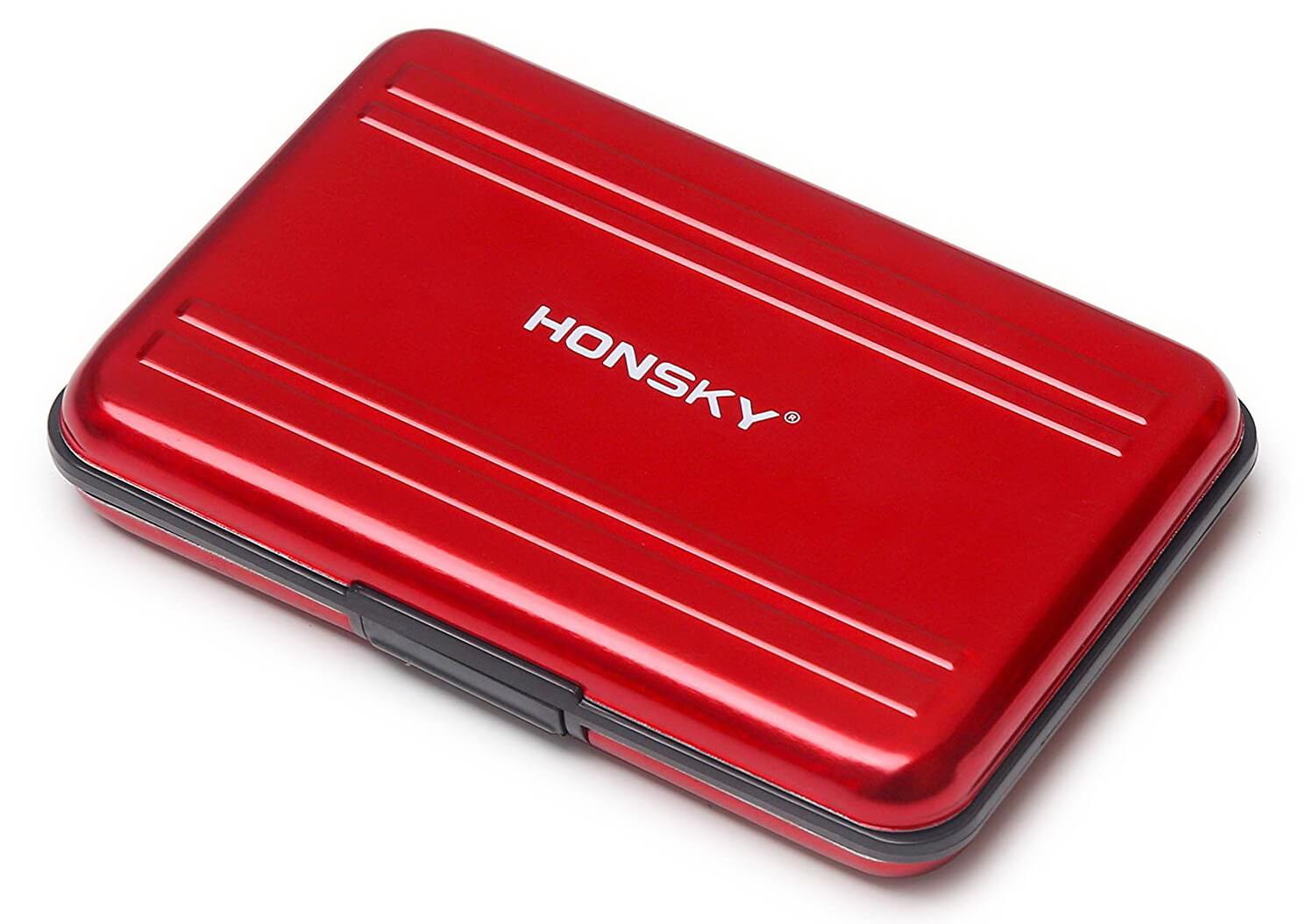 ? Check it out: Honsky Aluminum Water Resistant Memory Card Carrying Case
Alright, so next thing I want to talk about is actually fairly cheap and inexpensive accessories, but they are very important. I have them in my camera bag all the time, and I carry them around all the time. The first one is the Honsky Aluminum Water Resistant Memory Card Carrying Case. Now, a lot of people don't have memory card carrying cases… they might actually throw them into the bag if they have multiple memory cards, and I found myself kinda doing the same thing when I first started buying a bunch more memory cards, just keeping them in the plastic cases they come with… but then I lose the plastic cases… you get the idea.
I bought this aluminium water-resistant memory card carrying case, and it has really helped out because it's a bright red colour, you're not going to misplace that! (especially with all those black accessories and cameras/lenses you may have). It holds standard SD cards as well as microSD ones underneath it, so if do happen to you have an SD setup in your camera and a drone or GoPro camera that uses microSD cards, again, these are cheap accessories you can get.
If you have more than one SD card, which if you are a photographer is more than certain to happen, you should check this product. It's red, it's aluminium… it's not like a foldable folder with plastic sleeves, it's an actual quality carrying case and I really enjoyed it.
Giottos AA1900 Rocket Air Blaster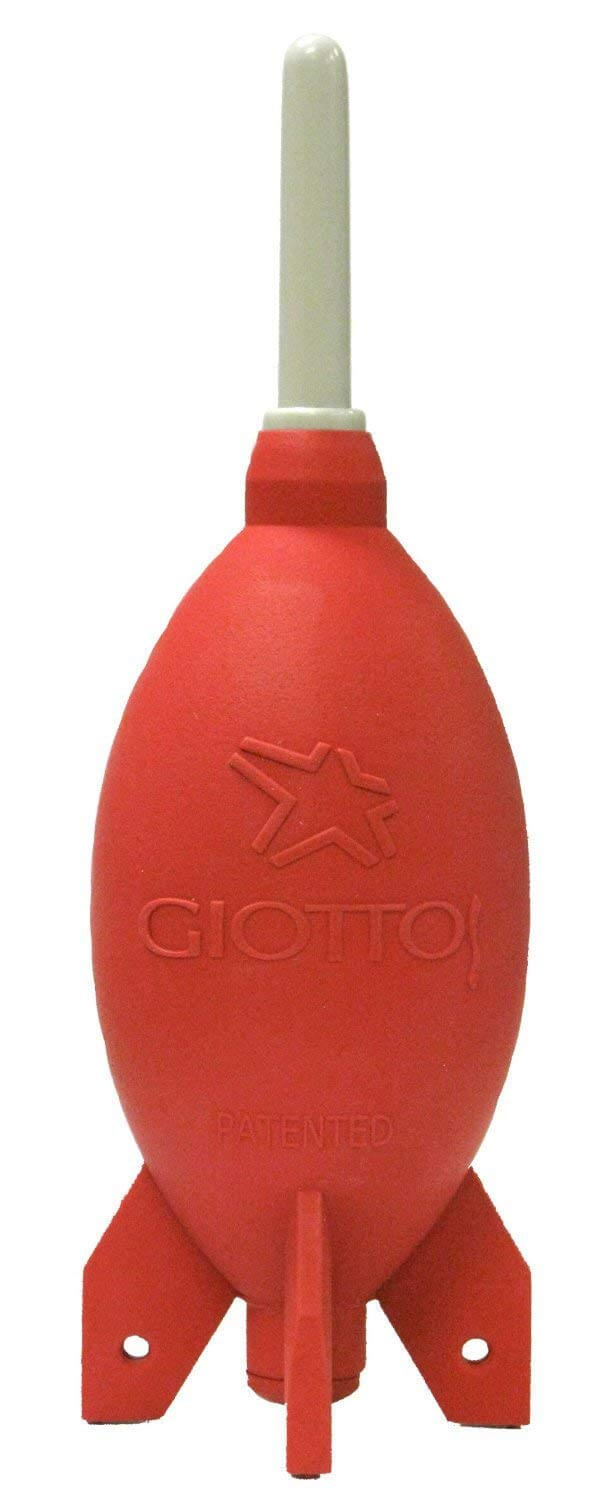 ? Check it out: Giottos AA1903 Rocket Air Blaster
So the next accessory I'm going to talk about it's actually what's called a rocket air blaster. Now, a lot of people may have seen this, a little rocket blower. It's a hand-pressed blower and works for blowing off dust and debris from your camera equipment. Again, this is one of the accessories that I keep in my bag all the time because I find myself being very, very careless with some of my gear, and I find that dust will fly upon the camera lens – and it's really hard to get those dust particles off there!
If I'm scrubbing my lens I may hear that grinding sound – like sand or similar that's grinding on the metal strip where I put my lens on. So I took my air blaster and tried to get rid of that debris that was there.
It's one of those small accessories that you can throw at the outside pouch of your camera bag, and if you ever need to get rid of some dust or something like that it might be on your lens, even inside your camera where you set your lens, the mirror… you get the point.
Camera Hot Shoe Mount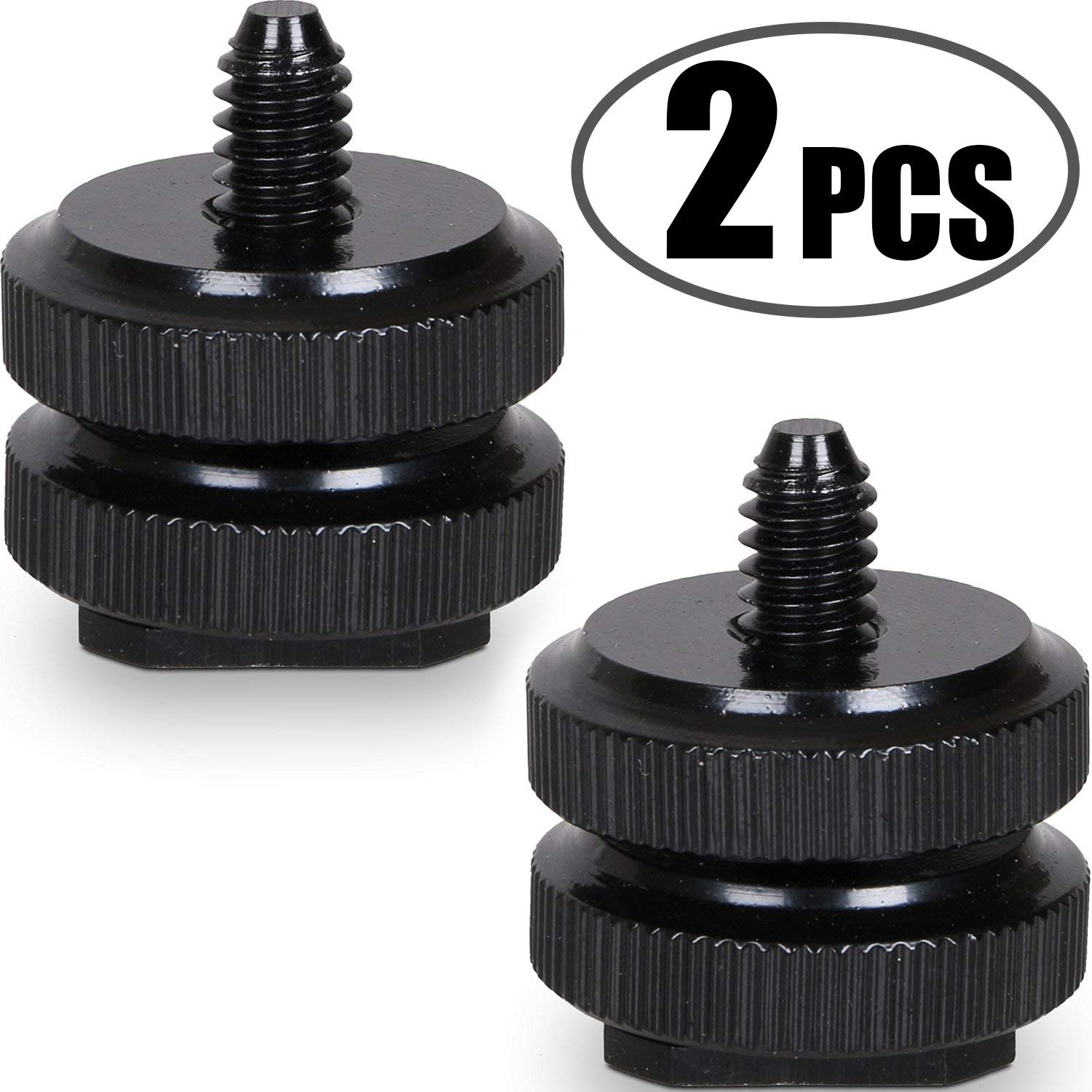 Alright, next is one of my favourites accessories; and I have like 6 lying around my desk, in my camera bag, in my camera tote as well, and it's a Camera Hot Shoe Mount. What these do is, actually, if you have your hot shoe… you don't really use your hot shoe if you use your flash a lot, this mount is a great way to attach your phone to the top of your camera. This way you can get videos at the same time you take photos, or you can take a timelapse… you can do two things at once.
Now, this is just the mount piece, so this is – technically – one of those one-in-a-half screw sizes where sustain a tripod mount. Pretty much anything you can put on a tripod. This is just the first part of a setup, to fully complete it you will need the next accessory we're going to review.
? Check it out: https://amzn.to/2twUVUQ
Puroma Universal Cell Phone Tripod Mount Adapter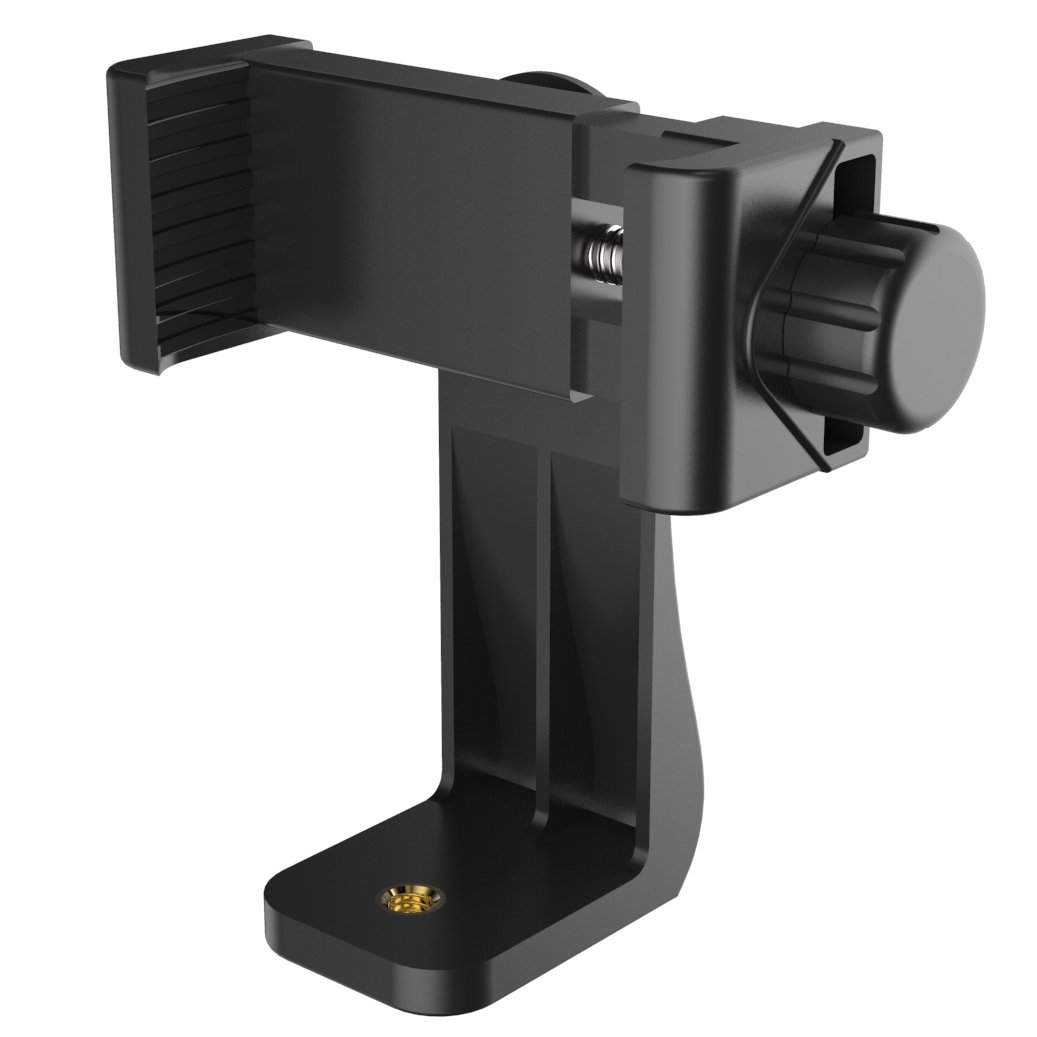 There's a bunch of tripod mounts around there, this is the one that I have, and basically, you just screw your tripod mount on top of the Camera Hot Shoe Mount that you just bought. And now you have your phone up there!
There was a product some time ago that, unfortunately, didn't go out in the business, and it was called "Trigger Trap", and what you would do is that you would use your phone for a lot of advanced features, for your DSLR camera. I could just use my phone as a controller, so I'd put my phone on top of my camera, like a little setup up there. Unfortunately, that camera company went out of business or also I'd be talking about them. But again, you can see that kind of practicality of putting your phone or something on top of your hot shoe.
? Check it out: https://amzn.to/2MSyr9x
Selens 168 LED Dimmable Ultra High Power Panel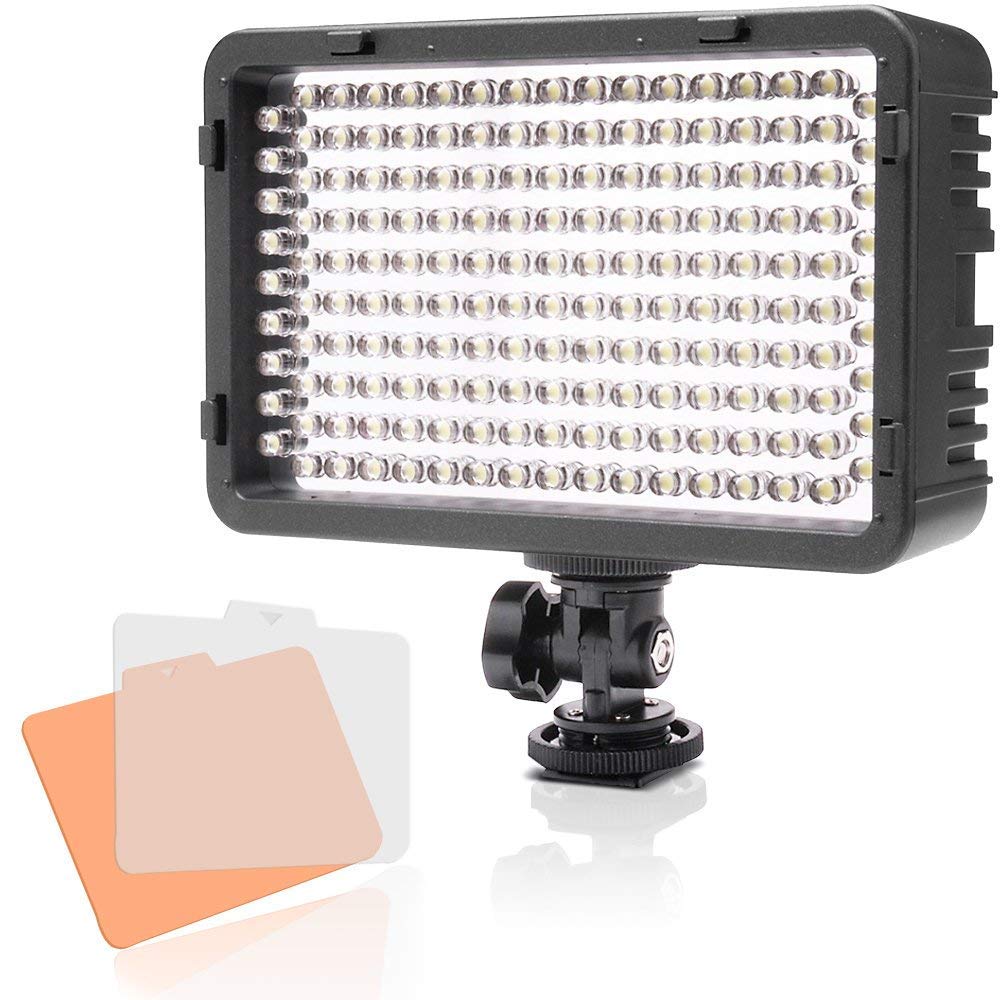 Alright so, the final product I'm going to talk about, and this is for all of those who do a lot of videos mainly (you can do this with photography as well). If you do video mainly with your DSLR you probably want to get some light source. So, if you really want to make it very portable, here comes the Selens 168 LED Dimmable Ultra High Power Panel, which is basically a light panel that can attach to your hot shoe.
This is a great panel, its got little LEDs in there, and it will light you up. You can put it in the hot shoe and record videos, or put it someplace else and record people. You can attach it to an Osmo if you have one, you can attach it to a tripod and have a little light setup. There's a lot of different ways in which this little LED panel can help, and it's cool if you can actually get 4-5 of these actually because they're fairly cheap. But if you're mainly doing a portable video setup, this is probably one of the ways to go.
? Check it out: https://amzn.to/2tpG1Aj
Alright so these are some of the accessories I've got; I'll probably find more and do another podcast on this topic if you guys enjoy that as well.