Split tone effect tutorial in Photoshop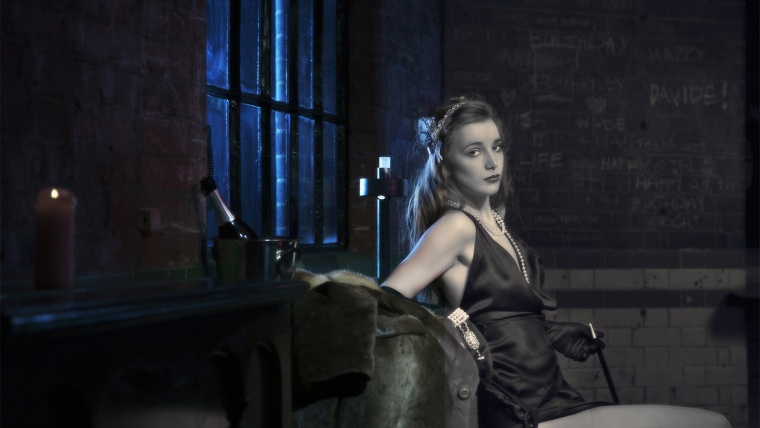 Split tone effect tutorial in Photoshop
www.sleeklens.com
As photographers, we need very good and trained eyes to capture the right moment, light and composition in order to create a piece of art. An image that will express certain look or mood, conveying the photographer's message/idea or current mood. But the creative process of photography doesn't always finish just with capturing the images, in fact, this is where it just begins.
As soon as photography was invented, photographers started to use various editing techniques as a way of extending the artistic merits of their craft. One such technique was the so-called "Split tone" – which, in analog days, was achieved in a dark room. Luckily, nowadays, we don't need a whole room, full with a collection of chemicals, to emulate this effect – all we need is a PC, calibrated monitor, and Photoshop.
Today I will be showing you, one way and probably the most flexible and versatile, of how to Split Tone your B&W and even color images in Photoshop.
Ok let's roll our sleeves up and begin work by opening an image in Photoshop – in this example, I will be using one of my images, from my creative portrait photography portfolio, which I also think is a good candidate for the effect to be applied on.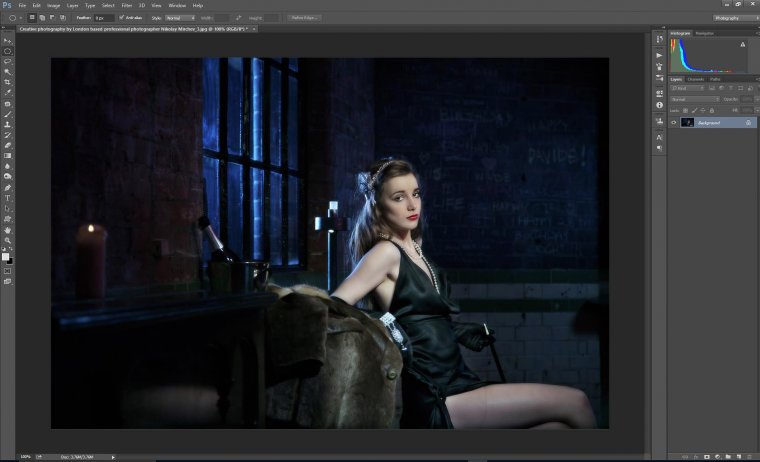 The very first thing we need to do with the image is to convert it to a gray scale – in this instance, I will use "Channel Mixer" to quickly convert my image. In case you like to speed up this process, and you have the perfect formula for your B&W conversion, a good option will be is to use Photoshop Actions function to this for you. On the example image bellow, I have marked, with red checks, the sliders I used in the process.
In the next step will be adding Gradient Map – adjustment layer. Once you have it open, in the properties box, click on the gradient strip in order to access Gradient Editor window – where all the magic will be happening.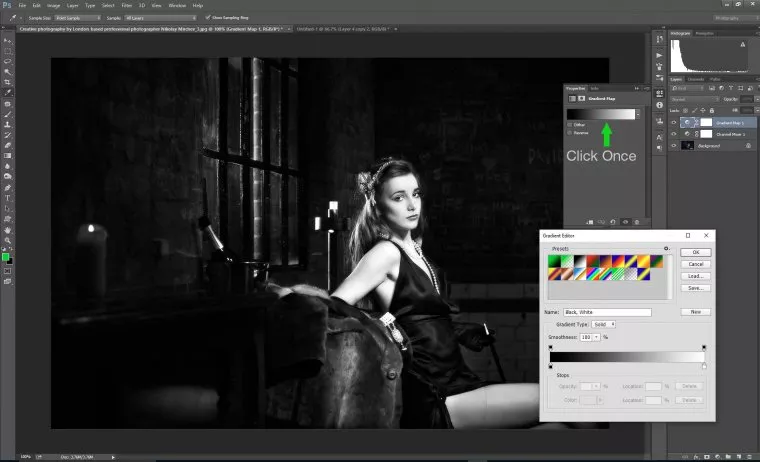 At this stage our image is still B&W, you may get different gradient preset by default (if this is the case select b&w gradient, as shown in the image). In any case what you need to do at this stage is to pick up colors for the shadows and highlights – as shown in the images bellow.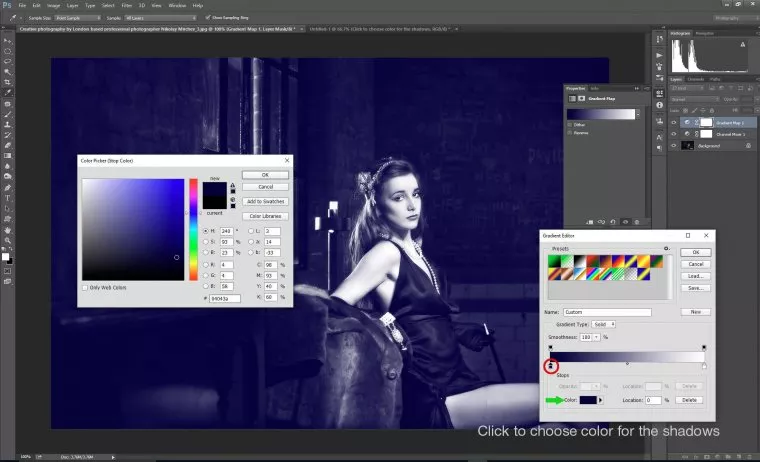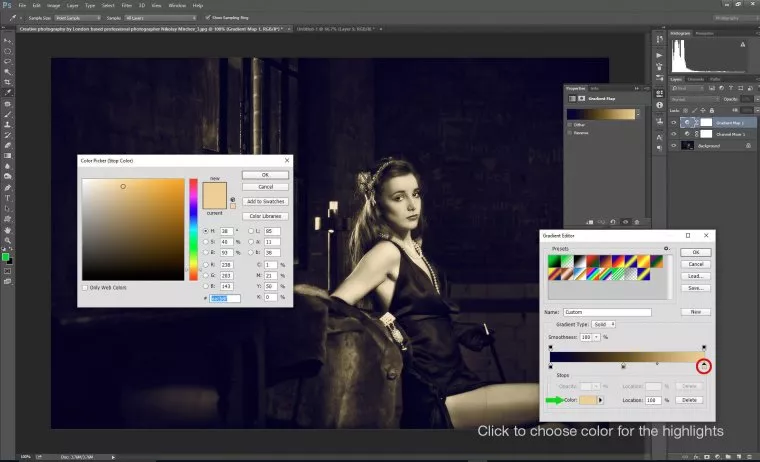 On the last image, you can see that I have also added a color variation for the mid tones too, another thing to notice, and it's quite helpful to know, is the small dot on the slider. Moving it left or right helps you control the balance between the colors you have picked, within the range. On the next image, you can see that as soon as I added mid-tones slider now we have two dots, which will be controlling the balance in the range of the tree colors we picked so far.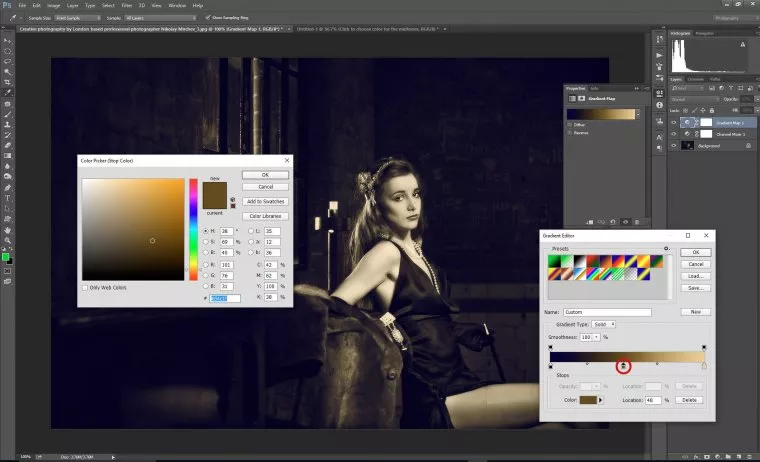 Now is time to hit ok button, and you'll get a result similar to the image bellow – where the effect is quite strong, but for our purposes, it is a good example of how the image is split into tree tones.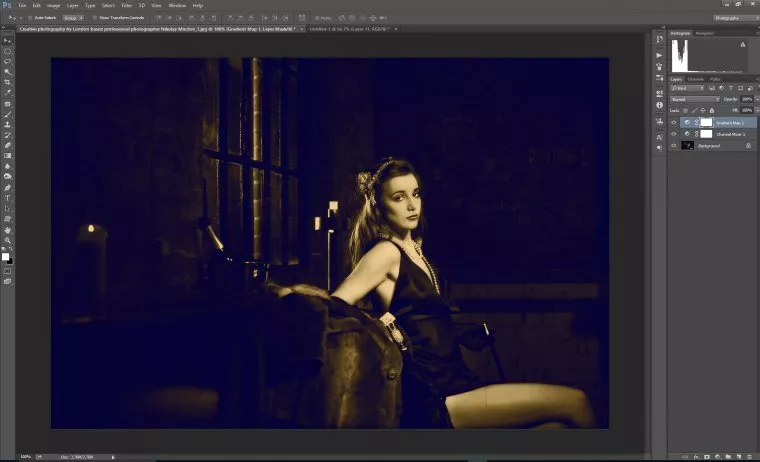 All we need to do now is just reduce the opacity of the Gradient Map layer, and voila you have a beautifully split toned image.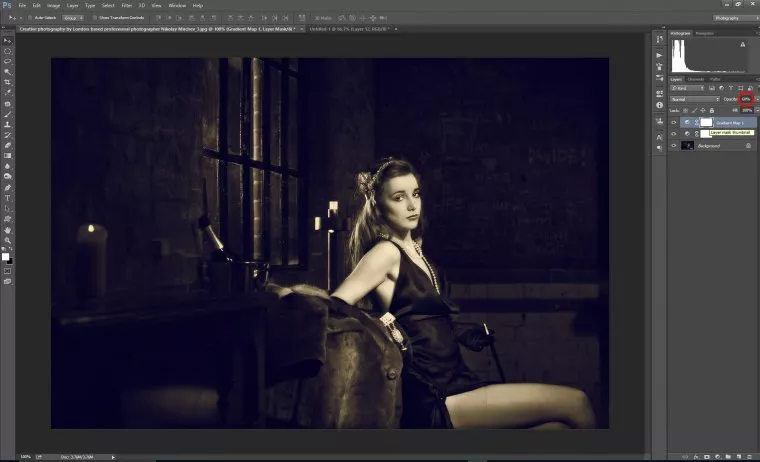 All of the steps we cover above were very good exercise, which will help you understand how the tool work – which in its own turn will help you be a better artist, the one who is in control of the entire creative process.
But there is one little trick I like to reveal, I hope you won't hate me for this!
As we all know very well, programs such as Adobe Photoshop or Lightroom are well packed with different sorts of presets – and it turns out that we also have Photographic Toning presets. These are very well made and balanced Toning effects, they can make a very good starting point for your creative work (please see the image below). In this case, I have used the "Sepia – Selenium 1" preset. Another thing I need to pint out is when using presets you don't need to convert the image into grayscale.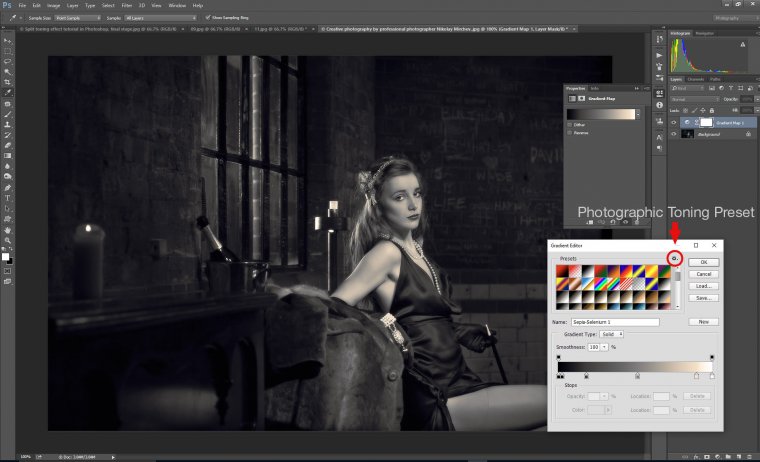 I really hope you enjoy this tutorial and don't forget – you are the artist with a unique and original vision who will be creating a masterpiece. So go ahead, bravely, and experiment with all these sliders and the technique I have shown you in this tutorial.
Before you hop out, don't forget to learn the best way to correct wide-angle distortions in photoshop.
The following two tabs change content below.
Nikolay Mirchev is a London based professional photographer with unique and very creative body of work. After completing several photography workshops, with famous London photographers, Nikolay realized that there wasn't much he can learn by following other peoples style or work. That is why he decided, in 2007, to move on and become professional photographer - who constantly strive to explore and learn new techniques, allowing him to deliver stunning visuals