Editing a Summer Photo in Photoshop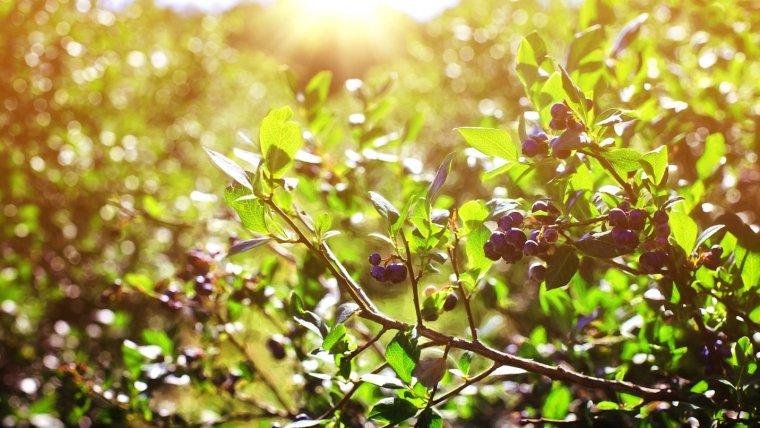 Editing a Summer Photo in Photoshop
www.sleeklens.com
No season has a greater opportunity for photoshoots than summer. The nice weather and longer days make for excellent outside photos. Kids being off of school and some adults being off of work mean more time for everyone to get outside and have fun.
Summer has its own unique aesthetic to it that's hard to capture in a photo sometimes. Luckily we live in the age of Photoshop. By following these simple steps you can turn a good photo into a great summer photo. We'll be working with this photo today, because what says summer more than picking fruit straight from the vine on warm afternoons. This Photoshop tutorial works great with plant photography but can also be applied to portraits and landscapes.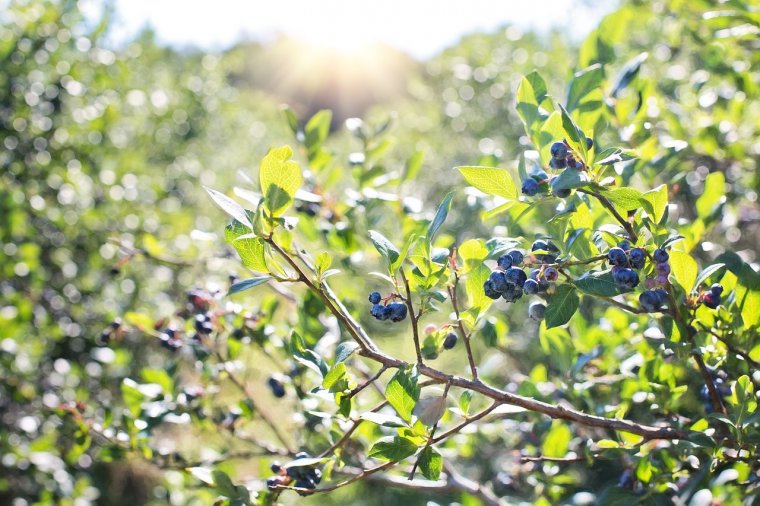 Basic Editing
Before we get into the specifics of summer aesthetics we have to make sure we're working with a good base picture. The most important fix for this picture was adjusting the curves. This warmed the picture up. It also gave the picture a more pronounced solar flare. This isn't wanted for every picture, but the sun is a big part of summer. So having a sun flare in your image is an excellent way to bring summer to your photo. If you don't have an image with the sun already in it, we'll be learning how to artificially create the solar flare later on in the tutorial.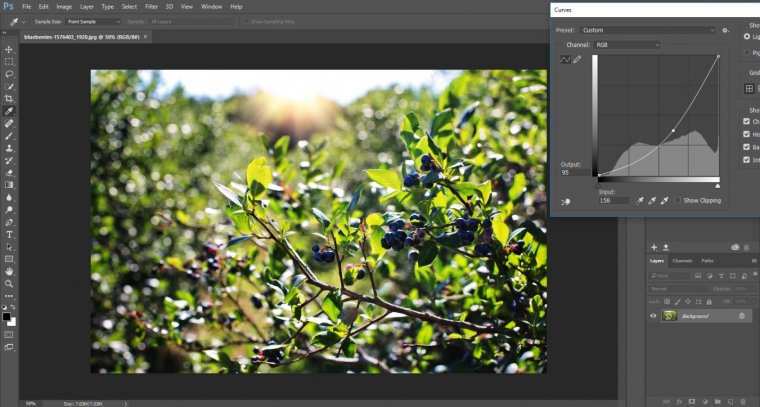 This is the step to experiment and see what works best for your individual picture. Before moving on, we adjusted the blue hue a bit to bring out the color of the blueberries. But be careful, going too far into the blues and greens will overshadow the yellows and oranges. Yellows, reds, and oranges are key to a summer photo. We'll be adding some of that color soon. For now, just keep it in mind as you adjust until you find a good starting point.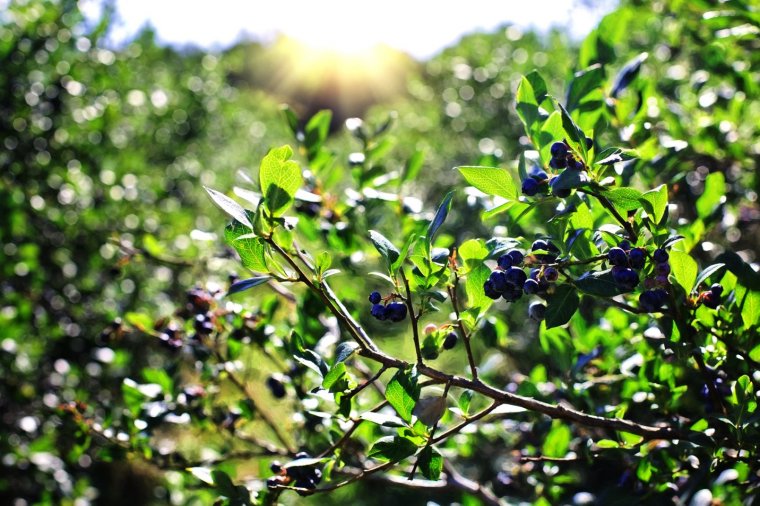 Creating Sun Flare
Something that most summer photos share in common is the glare from the sun or the solar flare. After all, the presence and intensity of the sun is what makes summer, summer. But if your picture didn't allow for the flare, or if the flare isn't just right, your picture is less likely to be noticeably summer related
First, create a new gradient layer. For the color pick a nice warm orange and make sure it's going from color to transparent. For the angle, you'll generally want sometime around -120, to get the flare in the top right corner as is a common location. If, like in the example, you have the sun already in your picture, try and align the angle to fit with its natural location.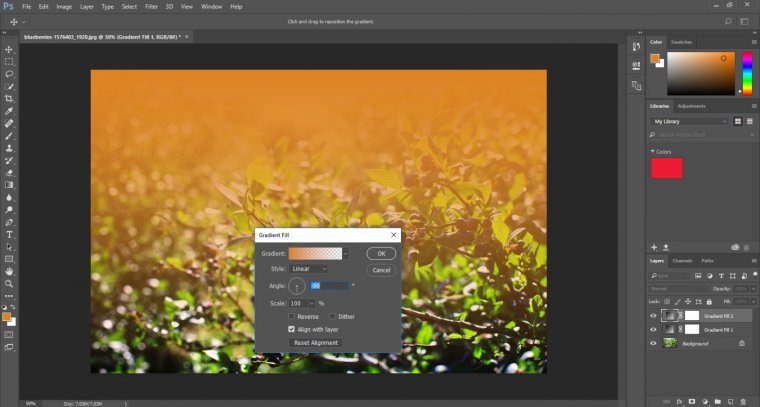 To keep the picture from looking overwhelmingly orange, you want to blend it into the picture for a more natural look. To do this, go into the blending option on this layer. Set the mode to screen and lower the opacity just a bit. You still want it mostly opaque so it doesn't overshadow the whole image. Here's the picture with the added/improved sun flare.

Color Overlay
Next, we're going to bathe the image in warm color. To do this, create a new layer for selective color. This layer will allow you to adjust the overall shading of the image, much like adjusting the basic hues and colors. For most summer photos you'll want to set the colors to neutral. This ensures that you're targeting the whole image. Play around a bit until you find the shading and colorization that looks good to you.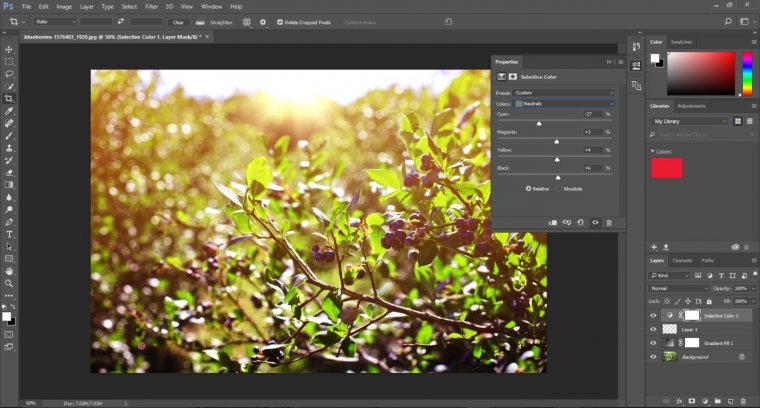 Adding Some Blue
Now we're going to do something a little weird. Generally, warm colors dominate in a summer photo. But to totally ignore the cool colors is to do a disservice to your image. So let's bring a little bit of coolness back to your photo. Create a solid color layer, but this time pick a very light blue. Set the blend mode to soft light and lower the opacity a lot; it takes a lot of effort for the blue to show through. It may not look like much of a difference right away, but it's very effective for your overall finished product.
A Little Bit of Blur
Once you're certain that everything looks the way you want it to color and glare wise, merge all of your layers. After this point, you can't change the settings easily so make sure this is the last thing you do. Next, create a duplicate layer. Give this new layer a Gaussian Blur with a setting around 25-30. The last thing to do is play with the blending. Set the mode of this layer to soft light with a setting around 50%. This will blend the blur down and create a more emphasized focal point to your picture.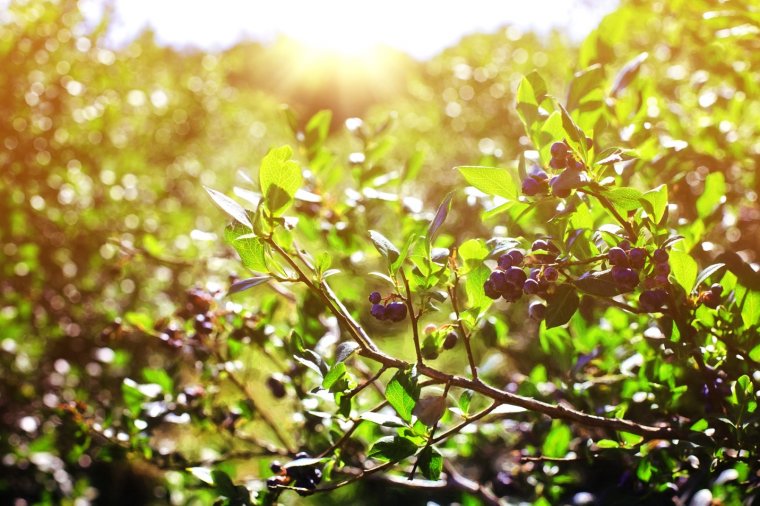 By following these steps you'll create an amazing summer photo using Photoshop. So give it a try and let us know what you think!
The following two tabs change content below.
Before I became Editor-in-Chief of PHLEARN Magazine, I spent over five years specializing in Photography Writing and contributed articles regularly to sites like PictureCorrect, Sleeklens, and PhotoWorkout. Photography has always been a huge passion of mine; I may not be professionally trained in the art, but the knowledge and experience I have gained writing about photography techniques, interviewing some of the biggest and most inspiring photographers out there, and covering industry events has been invaluable!