Photography Portfolio Website Starter Guide I – Choosing the Right Platform/Software
Photography Portfolio Website Starter Guide I – Choosing the Right Platform/Software
www.sleeklens.com
If you are considering turning photography into a business, or you simply want to show your works to the public, you may need a portfolio website to gain publicity. Potential clients are more likely to collaborate with photographers with a serious website rather than those who only have a Facebook fan page. Therefore, if you are taking photography seriously, you should really start a portfolio site if you haven't yet.
Undoubtedly, knowledge in coding and SEO does give your site a boost. But, thanks to the advanced technology, expertise in HTML, CSS, and all those messy codes is no longer a prerequisite for people to create a decent-looking website. You can get started even if you are a complete newbie to web design. In the following paragraphs, I will go through different platforms and software and you will see which one suits you the most.
Are you a newbie of web design and development?

If you know nothing about web design, you may consider those online website makers. You will get your site ready right away if you have prepared all the contents to be put on your site beforehand. These online website makers do not require any web development experience of the user. The user-friendly drag-and-drop user interface allows the user to create a decent website with ease. Don't worry even if you are not a graduate of School of Design, there are tons of attractive templates to choose from. You may customize the template you have chosen or leave the layout untouched in case you are not familiar with design stuff.
Wix is one of the online website makers that enables you to create a web page within minutes. There are various readily usable templates available. You don't need to bother with all the design work if you are not into it. Undoubtedly, there is no such a thing as a free lunch. Although you don't need to pay a penny to start a website with Wix, their free subscription plan does include ads and you have to purchase their one of their premium plans in order to remove the unwanted ads.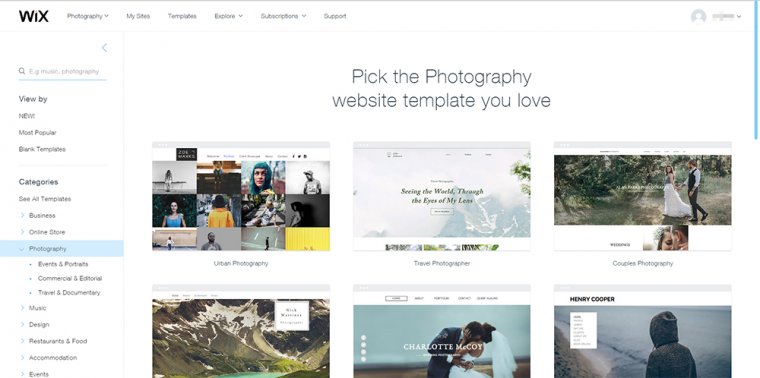 There are tons of high-quality templates available on Wix.
Are you a graphic designer with basic knowledge of web development?
Apart from being a photographer, if you are also an experienced graphic designer or UI/UX designer, you'd probably want a greater flexibility over the layout of your website. Yet, you are not the HTML guy or CSS guy and coding plagues you a lot. If that's the case, you may want to check out Adobe Muse. Adobe Muse is a WYSIWYG web design software and it is relatively new compared to other famous web developing software. The UI of Adobe Muse is very similar to the one of InDesign. Therefore, you will pick up the basics of Muse if you know InDesign. The user-friendly drag-and-drop interface allows you to create pages with relative ease. It supports master page function which resembles the one in InDesign. There are also copious plug-ins available on the official site of Adobe, which is designed to enrich the functions of your website such as reservation system, contact form or even merge a blog to your site. You can also add fancy loading and transition animation with those plug-ins. However, self-hosting of the blog is currently impossible with Muse unless you have subscribed to Adobe's Business Catalyst plan. In other words, Muse is capable of constructing static website but not the dynamic one. You may purchase Adobe Muse by monthly subscription, which is the same as Photoshop.

The UI of Adobe Muse CC 2014.
Are you going to construct a personal website with an online shop and other dynamic stuff?
If that's the case, you may consider WordPress.org (not to be confused with WordPress.com). WordPress.com is a free blogging service but you only have limited control over your site, whereas WordPress.org is a free Content Management System (CMS) which enables you to have full control on your site, but you will have to find a web hosting service and purchase a domain name by yourself. With a CMS, you can modify or update your site easily and manage it like a blog. There are also numerous professional templates and plug-ins available in WordPress. Unlike the aforementioned platform and software, you will need to do some configuration works after you downloaded WordPress onto your computer. According to their statistics, there are around 26% of websites around the world which are powered by WordPress. You may give it a shot if your personal website is not merely a portfolio site and you want to include an online shop, booking system, self-hosted blog and all those dynamic stuff.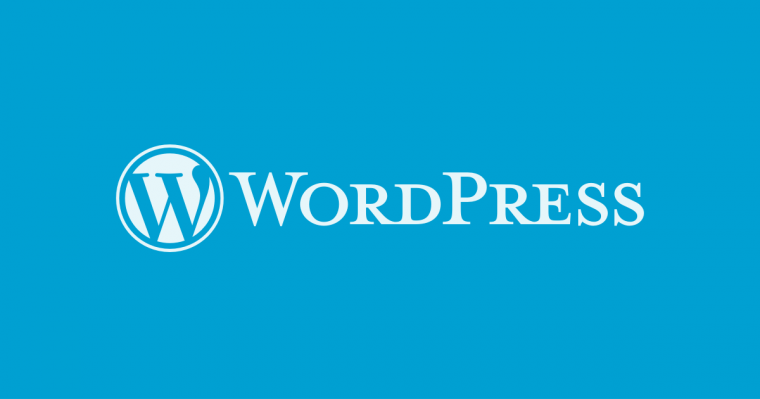 Courtesy: tw.wordpress.org
Conclusion
Thanks to technology advancement, starting a portfolio website is no longer a pain in the neck. If you do not want to bother about coding, you may check out those online website makers such as Wix or the intuitive website design software Adobe Muse. If you want to build a relatively large-scale website with tons of dynamic elements such as online shop, you may want to try WordPress. Stay tuned and I will go over the design guideline of portfolio sites with you next time.
The following two tabs change content below.
I am a freelance photographer who specializes in architectural, landscapes,streets and fine art photography. I have been learning photography for nearly 5 years. I am currently collaborating with some HK-based photography sites such as DCFever.com and FotoBeginner.