How to Edit Concert Photography – In Depth Guide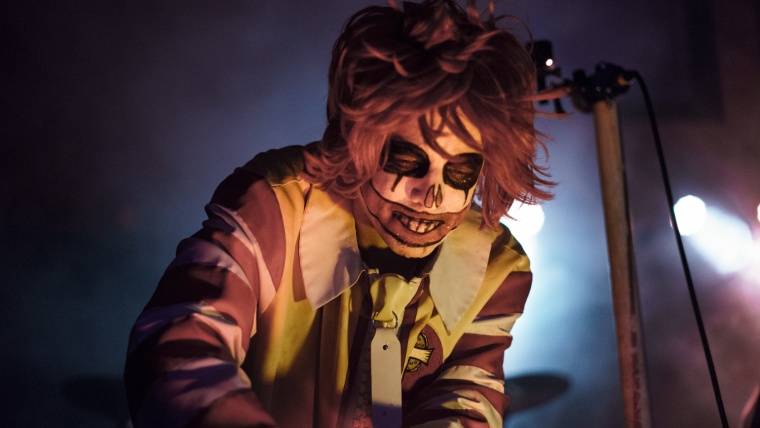 How to Edit Concert Photography – In Depth Guide
www.sleeklens.com
Intended as a sequel to How to Get Started in Concert Photography
We all know the challenges of concert photography. The low light. The fast movement. The crowd. Your distance from the stage. And so much more. So just getting an exposed, focused image is challenging enough. But once you have that, now what? Is your image washed in blue light? Or worse, the dreaded red light? Getting the image is only the first part of nailing killer concert photography. Now you need to edit the image and balance the colors to your liking.
Below are some great steps as one option for color correcting. A couple requirements: the image must be in the RAW format, and the color wash needs to be somewhat minimal. In essence, if the red wash is too extreme, you can't do much. The white balance dropper just won't be able to find the appropriate blues and greens.
Starting Image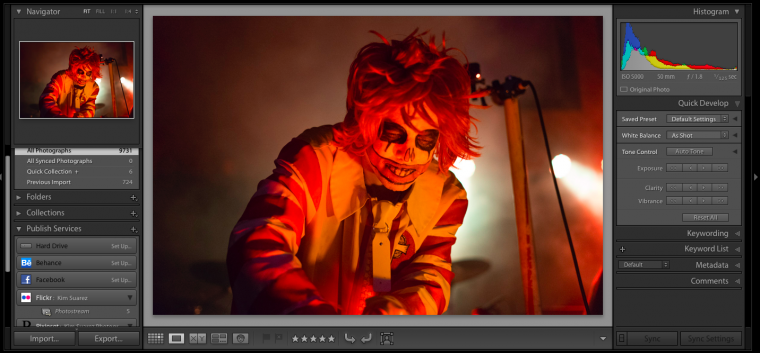 Camera Calibration
When you bring your RAW image into Lightroom
, you'll want to first adjust camera calibration. Play around with the options, because it will depend on the image. From experience, I've found Camera Neutral works for me. Play with the sliders as well once you've found an option that works.
You may also want to adjust Lens Corrections as well here. Go to the Lens Corrections tabs and check the first two boxes in the Basic subgroup. These are Enable Profile Corrections and Remove Chromatic Aberration. This will fix any lens distortion you may experience. I recommend checking them always, it can be surprising how much difference this makes.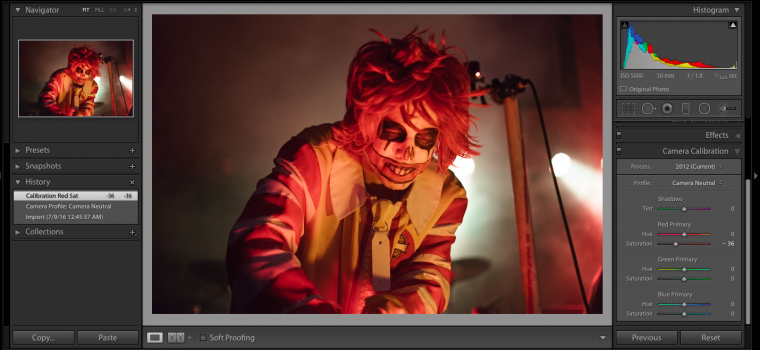 White Balance
Next, head to the Basics panel and find the white balance dropper tool. Click onto an area of the photo that should be white. This can be eyes, teeth, clothing, etc. Here is well you'll likely be able to tell if this option will work for your image. Sometimes it just won't. But if it does, it is amazing how much the tones will balance out. You can play with Temp and Tint, I leave them as is.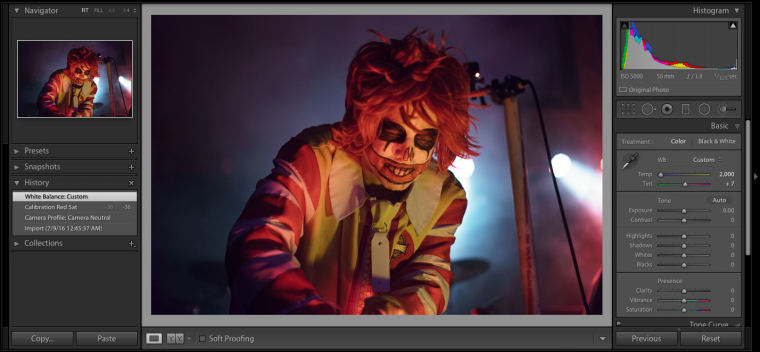 Basic Settings
Here is where I'll do my basic setting adjustments. This would be exposure, contrast, whites and blacks. I usually find my images tend to be on the darker, more contrasted side, so I'll adjust to that style. In this image, I wanted to convey a dark, moody feel because that was the band's image. The band being the MacDonald's-themed Black Sabbath cover band Mac Sabbath. If you haven't heard of them (as I hadn't until this night), check them out or go to a show. They are amazing performers, and you can't get a bad photo of them. Back to settings. Play around and see what works for the image and your style. It's important to maintain style when editing photographs. You want people to recognize they are your photos immediately if possible.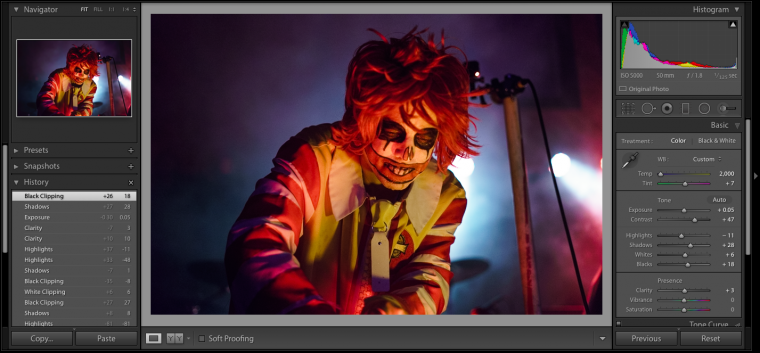 If Needed – Color Saturation
If you still find lingering color tones you don't like, go to the HSL tab. You'll want to desaturate any colors you don't want and then adjust Luminance. See what I've done below and played around with the sliders. There is a chance you may not need this step, but play around and see how your image can change.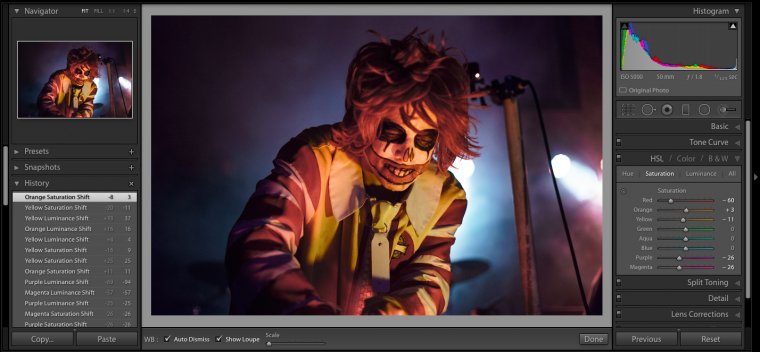 If you want to salvage that image, you may need to convert to black and white. Some might consider this a cop out method, but if the image is strong and well captured, it is worth the edit. Experiment with your settings and see what works for your image. The below is an example where I had extreme red washing out, but I didn't want to lose this image. To me, converting to black and white was a no-brainer. There is no formula here for perfect editing. Each image is different and should be representative of your style. Not someone else's opinion (unless that is a respected photographer with valid advice).
A final word on dealing with editing concert photography is to just go with the flow. If there is an extreme red or blue wash, but otherwise the photo is strong, leave it as is. Adjust what you can, but this type of lighting is somewhat expected. Also, most venues are good about flowing through different lighting during shows. So, you'll likely see red, blue, neutral and other types of lighting. Since you are shooting in burst mode (a must for concerts), you'll have tons of options at the end of the night. You may not even need any of those images shot during the red lighting.
The following two tabs change content below.
I am a self-taught travel photographer and writer from San Francisco, though currently based in Ventura, CA. Working in the outdoor apparel industry allows me another outlet for my creativity, as well as access to the outdoor industry. In my free time, I love running, biking, surfing, camping, anything outside.