How to Sharpen Image Using Photoshop High Pass Filter
How to Sharpen Image Using Photoshop High Pass Filter
www.sleeklens.com
Ok, nice to see you back, let's begin, so we left off were we had done a High Pass Sharpen, which Sharpened everything at once.
This is good and you could get away with it but we can take it further and have it looking just that little bit better, and if you can squeeze a few more percent out of a technique then why not, especially if we have the time to do it.
Right so what I'm going to do now is create a Layer Mask for that High Pass Layer.
To do this you need to go to the little menu at the top of your screen and find Layer, click into that and look down till you find Layer Mask, click that and then click Reveal All.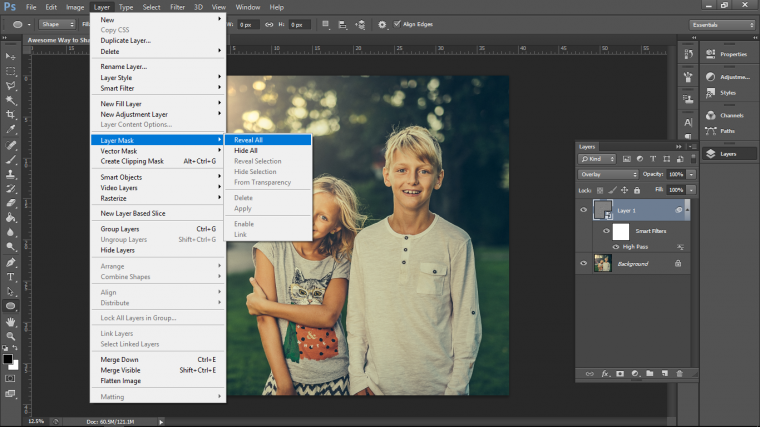 When you do that you will see a little white thumbnail box appear beside the layer, you will see it in the image below on the right hand side, you will see 3 little boxes, two white and one grey, well ignore the bottom box and click on the one directly beside the little grey one.
This is important you have that clicked.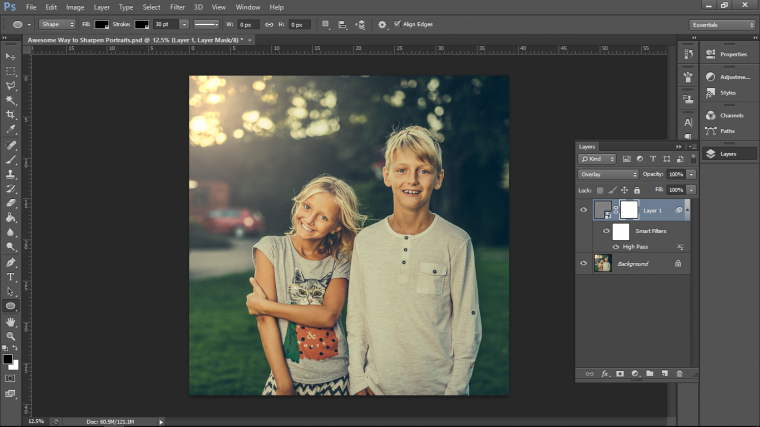 So now go over and grab your Brush Tool, make sure that the Brush is on Black, if you don't know how to do this look down the left-hand side of your screen till you nearly reach the bottom, you will see two boxes overlapping, they could be black or white doesn't matter right now as I want you to actively do this anyway.
So with those little boxes you will see an icon that represents those to the top left of them, click that, then to the right theres a small double arrow, click that so that black is on top.
Another way to do this is to just double click on the little boxes and choose your colour from there, so whatever you like best do that.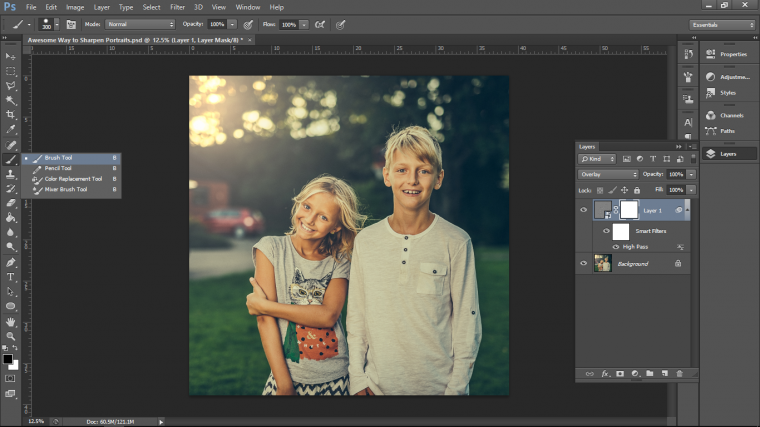 Now you are able to paint using that Brush Tool directly on to your image to hide the layer that the mask is attached to.
Do Black will hide.
White will bring back.
So for this I want to have the sharpening detail in the children clothing and hair, but I want to get rid of it on the background and skin.
You can do this now and while you do this check out the bracket keys on your keyboard as they will change the size of the brush, you can also zoom in using the plus and minus keys on your keyboard while holding control AND! if you hold the spacebar you will be able to click and drag your way around the image freely as you work.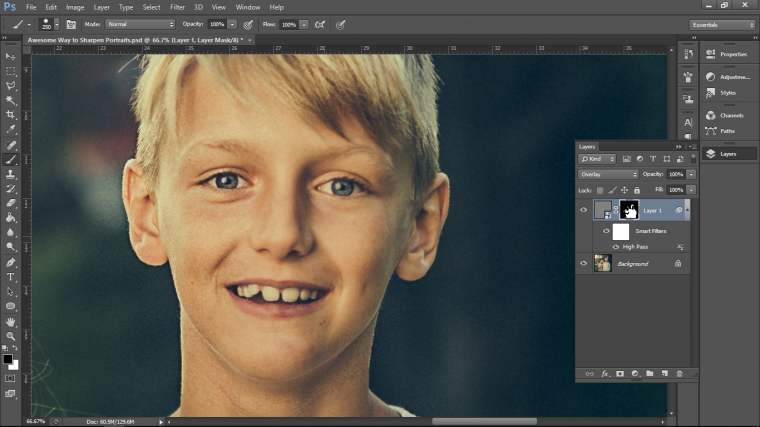 At this stage if you want you can go back into your High Pass Layer and increase or decrease the pixel amount, you can do this by clicking on the word High Pass that you can see in your layer at the bottom, you'll see a little eye icon beside it.
But bear in mind you will have to tidy up the edges of your mask!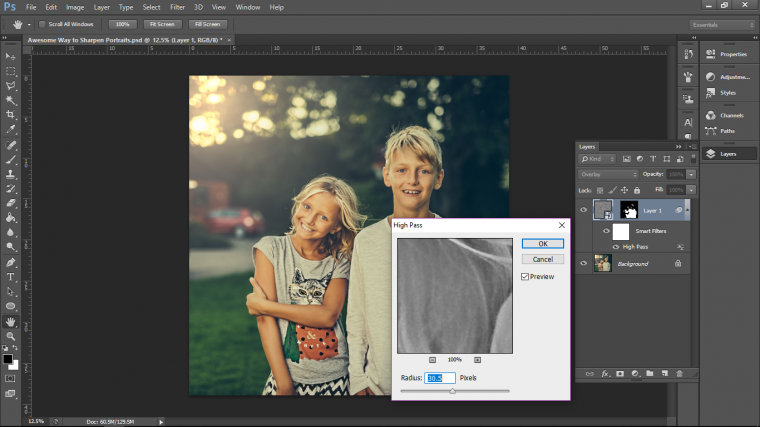 Ok now that that's done what I want to do now is to duplicate the layer, the way to do this is to click it and drag it down to the little icon beside [to the left] of the recycling bin icon, then release.
The icon you are looking for looks like a square with a little fold at the bottom left, you can see it below on the bottom right hand side of the image in the layers panel.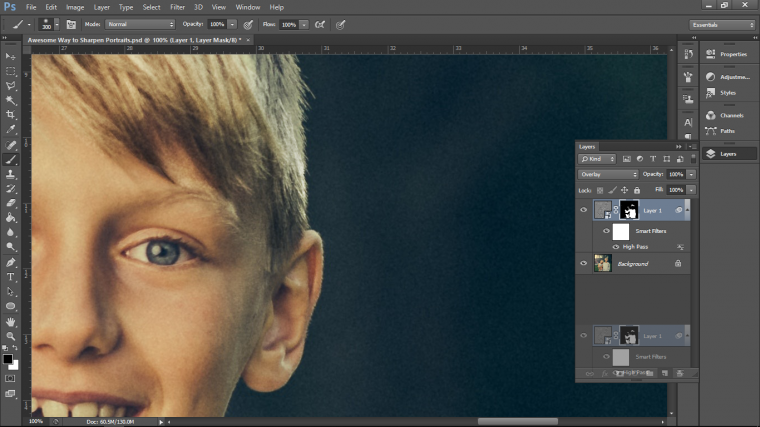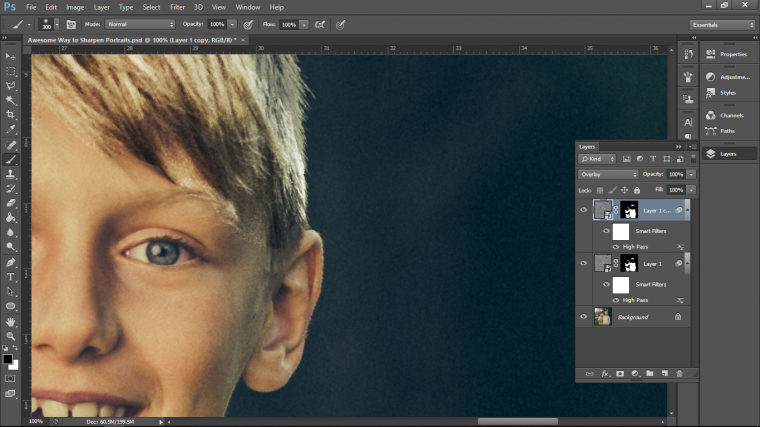 Now on the new layer, click on the box that contains the layer mask thumbnail, you'll see it there with the black paint on it.
Hold Shift on your keyboard and then key in delete.
This will bring up a Fill options box.
Where it says contents click on the drop down box that says Foreground Colour.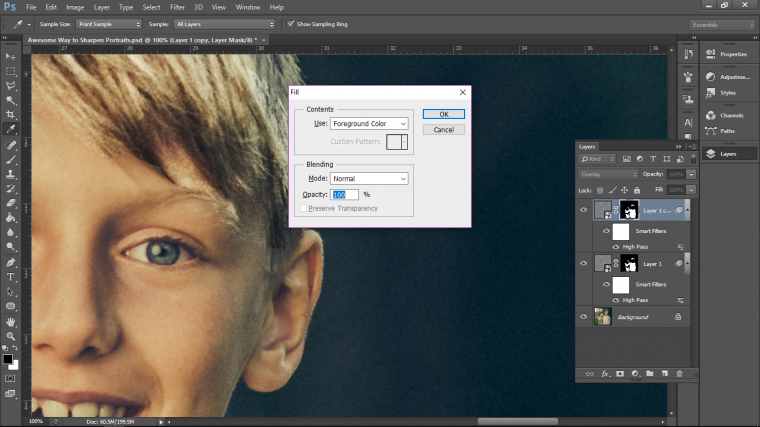 Then go to the bottom and click on White and click Ok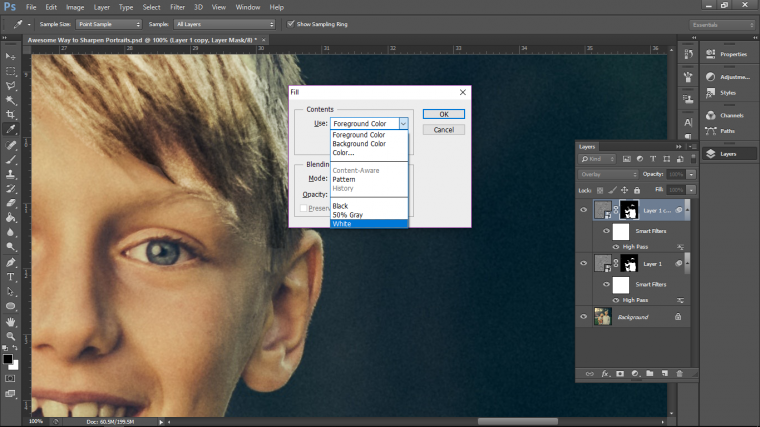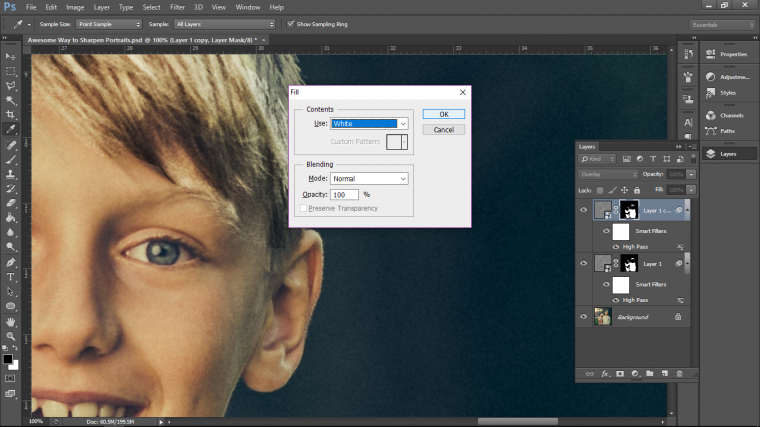 Cool, save up and this will do us for now, in the third an final part we will complete this tutorial and you will be on your way to awesomely sharpened images.
Part 3 An Awesome Way to Sharpen Portraits in Photoshop: Emphasis on Details
The following two tabs change content below.


Graduated from college in 2002 with a degree in Art & Design, I started exploring my way in Graphic Design and Professional Post Production. Full-time freelancer since 2011.